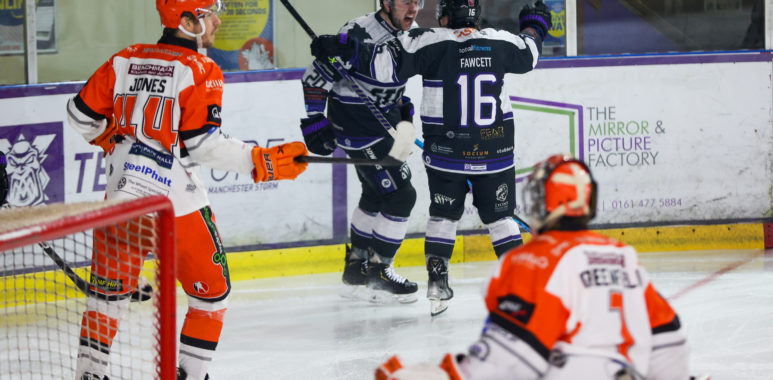 MANCHESTER LOSE OUT DESPITE SPIRITED EFFORT
Sheffield Steelers went back to the top of the Viaplay Elite League with a 6-3 road win over Manchester Storm on Friday night.
The home crowd saw their team get off to a good start against the high-flying Steelers, taking the lead with 1:46 played when Tyson Fawcett's shot was parried by Matt Greenfield into the path of Michael Korol to poke into the net. Sheffield responded at 15:45 through Evan Mosey to make it a 1-1 opening period.
Danny Kristo went behind the net and then back in front before shooting high past Jeremy Brodeur to make it 2-1 to the visitors 1:57 into period two, before the speed of Mosey caught everyone out at 22:5, including Brodeur who would probably have liked the shot back. Tomáš Pitule put the visitors 4-1 ahead at 27:49 as they began to take over, followed by a timeout from Storm Head Coach Matt Ginn.
Hopes of a Storm fightback were effectively dashed when Brett Neumann mad eit 5-1 3:36 into period three, although Anthony DeLuca scored a contender for goal of the season at 44:23. Robert Dowd hit the empty net with 1:28 remaining to round off the game.
The win sent the Steelers back to the top of the table, two points above Guildford who have a game in hand. The Steelers host the Flames on Saturday night.