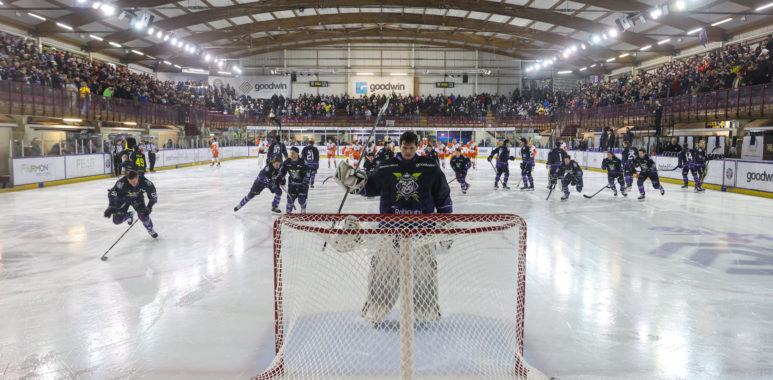 League News: 2022 starts with strong crowds across multiple markets
As we head into the second half of the 2021/22 season, we've seen strong crowd numbers across multiple teams throughout the Premier Sports Elite League.
This comes against a backdrop of missing an entire season due to the COVID-19 pandemic, teams in Scotland and Wales with limits on crowd numbers for much of December and January, and some 30 games cancelled with teams in protocol at the back end of 2021.
Sheffield Steelers have been leading the way this season, and are on a huge run of 22,891 fans through the doors in just three games. They'll be trying to make it four straight home matches with over 7,000 fans when they take on Cardiff in the Challenge Cup Semi-Finals. The Steelers have gone over the 7,000 mark eight times already this season!
"it is that hard work, not just over the past few weeks or months but over the last 10 years, that has seen our attendances rise even in this post-pandemic and interrupted season," Owner Tony Smith told the Yorkshire Post. "We want even more people cheering us on. There is a lot of competition out there for people's attention and support – the cinema, bowling, other great sports and entertainment – we can't take our foot off the gas."
Across the Pennines, Manchester Storm have been on a roll of their own since the turn of the year. In 2022, Storm have welcomed in 14,089 fans across eight games – an average of 1,761 over two months for the organisation that averaged 1,365 in 2019/20. They were sold out this weekend against Sheffield.
"We have a loyal fan base here in Manchester and are beginning to see new faces on a weekly basis," explained Managing Director Jamie Tunstall. "We thank everyone who's been coming lately and hope they will continue to do so. After such a prolonged break where we missed an entire season, this bodes very well for the future."
Liam Hesketh, Head of Ticket Sales & Marketing added; "Manchester is a global sporting superpower – Our clubs, fighters and athletes can go toe-to-toe (on the record) with any city in the world. The City's sports market is not therefore as football-centric as many believe – it is rich and varied, and Ice Hockey has a proud role in that history. At Storm, we get that and honour that, we believe our sport ticks with a timeless Mancunian DNA".
"Anyone who hasn't yet managed to make it to the 'Storm Shelter', we welcome you and encourage you to come and experience the atmosphere with family and friends and to see what Storm Hockey is all about".
In Wales, Cardiff Devils have sold out 13 of their 18 games in league and cup so far this season (excluding games played behind closed doors due to COVID-19 regulations). Their average crowd sits at 3,036 out of a 3,100-seater venue – running at 98% capacity!
"We don't have as many seats to sell, but for our venue we are doing better than ever. Take out the games behind closed doors and we have sold out nearly every game, averaging 98% capacity throughout the season," said Managing Director Todd Kellman. "I think our fans have responded this season and shown how much they missed Elite League hockey last year."
Dundee's attendances continue to rise year on year. The Stars have increased their crowds some 21% since 2018/19 and have also seen strong numbers this season with a couple of Friday night games. "We worked very hard in Dundee to consistently grow our attendances over the past few seasons," said General Manager Omar Pacha. "Obviously we had to play some games in front of reduced capacities, but we can already see that the fans' passion for their team and hockey is stronger than ever."
Further west in Scotland, Glasgow Clan's first home game against the Stars this season saw them break the 3,000 mark. Clan started the season some seven weeks behind the other nine teams after a long process that saw them take over the day-to-day running of their arena. They, like Dundee and Fife, were limited to crowds of just 200 for most of December and January.
"It's been great for us to get back to playing games without spectator limits, and the Purple Army have come out in force for us again like they always do," added COO Gareth Chalmers. "Last weekend's game against Dundee saw us go over the 3,000 mark again and we're very positive looking towards the final part of the season where every point is going to be massive."