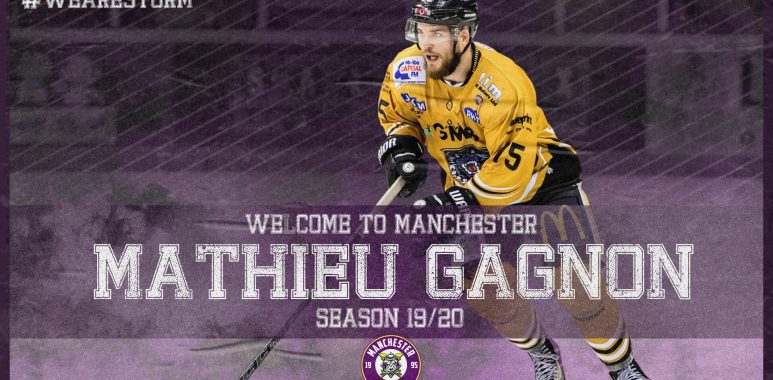 Interview: Mathieu Gagnon
SEASON TICKETS: Don't miss a moment of the action, save money on all #EIHL league games at the #StormShelter when you purchase before midnight on Sunday 30th June 2019! Tickets can be ordered online, by emailing seasontickets@storm-office.com, or in person at the Storm Sports store.
We spoke to newly signed Canadian defenceman, Mathieu Gagnon about his upcoming season with the Manchester Storm.
Hi Mathieu, what are your plans for Summer?
Mathieu Gagnon: I don't really have plans for the summer. I am just going to spend it here in Montreal working out and prepare for the next season. I will be enjoying summer time in Montreal with family and friends.
What do you already know about Manchester as a city?
MG: I know that manchester city is a really big city, with a strong football culture. 
What are you looking forward to the most about your first full season with Storm and your return to the EIHL?
MG: I'm really excited to make my return in the EIHL because its a league that I had a lot of fun playing in and the fans are great.
For my first season with the storm I'm really excited to meet the fans, play games and explore a new city.
What would you say your best quality as a teammate was?
MG: I think overall, I am a good room guy. I like to keep the mood light and at the same time keep the boys honest.
What are your personal goals for the 2019/20 season with the club?
MG: My goal with the Storm in 19/20 is to show some leadership when needed and play an important role in the team, but mostly help the team winning hockey games.
Is there anything else you would like to add?
MG: I can't wait to wear the Manchester Storm jersey for the first time in front of you guys!
The Manchester Storm OSC are delighted to announce the launch for 2019/20 Own and Loan. You can find out more information here. Keep your eye on the OSC social media for more future announcements.