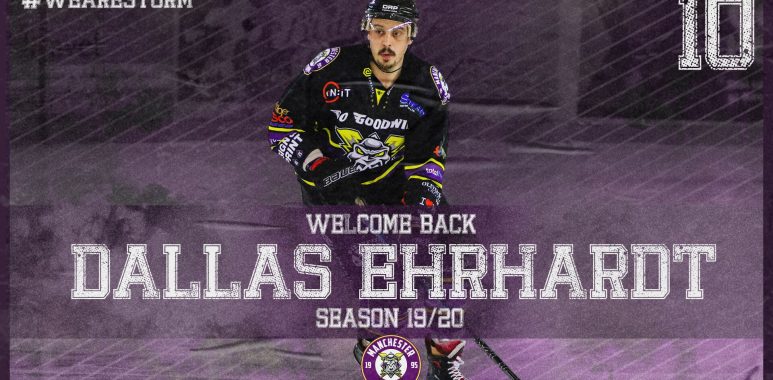 Interview: Dallas Ehrhardt
SEASON TICKETS: The Go Goodwin's Manchester Storm are pleased to announce that season tickets for the 2019/20 Elite Ice Hockey League season are now available to purchase. Season Tickets can be ordered here. The deadline for the Early Bird offer is Friday 31st May.
Your Go Goodwins Manchester Storm are delighted that dual national defenceman, Dallas Ehrhardt will be returning for the 2019/20 season!
We spoke to #10 about all things hockey, including his return to the club. 
You will be returning for your fourth year in Manchester, what is it about the league and city you love so much?
Ever since I arrived in Manchester it's felt like a home away from home. I've been lucky to play with some great players and work with some very passionate people. This league has been the perfect fit for me. The city and the people here have been so welcoming…I've developed some important relationships.
The 2018-19 season was arguably your best year in professional hockey, so what can the fans expect from you in 2019-20?
I've been lucky enough to be able to grow and develop my game over the past three seasons. Personally, last year I was able to make strides and that's the sort of player I want to be now. However, it was a pretty difficult and disappointing way to end…no player wants to end the season like that.
I believe in what we can do [here in Manchester] and with the pieces we have signed already. I'm looking forward to having a big summer and then getting back to Manchester. I want to get us back to a position I know we can be and that's something the fans really deserve to see.
Did you ever imagine you would one day be lining up against the likes of Canada and USA in the IIHF World Championships? (This was asked prior to GB heading to Slovakia)
Any chance o get to put on the national jersey is a huge honour! The talent in the GB squad is really starting to show, with the back-to-back promotions…everybody has worked hard to earn this opportunity and it's what dreams are made of. The amount of effort put in by the players, staff and everyone else involved is outstanding, it will be a special moment going up against the world's best.
Do you have any plans for the off-season after the conclusion of the World Championships?
I'm hoping to take a short break after the World Championships…but Manchester has become my home now, so I will be sticking around and carrying on with my work at ON:iT Recruitment.
It has been long time since I have seen some of my family, so hopefully I can get over to Canada at some point and catch-up with everybody.
Do you have any words for the fans ahead of the new campaign?
I just want to say, nobody wanted last year to end like that and I know everyone around the team are doing what they can to improve. Finner is going to make some necessary changes and Storm fans should be looking forward to watching a really exciting team.
I think we are going to make really big strides next season. I just love playing in the Shelter and I think we are even better when that place is full. The atmosphere is unlike anywhere else in the league, i am looking forward to coming back to Storm.
See Dallas Ehrhardt's Elite Prospects Profile here: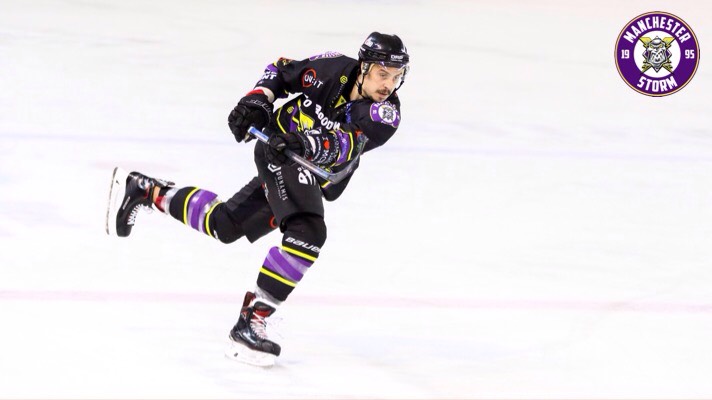 The Manchester Storm OSC are delighted to announce the launch for 2019/20 Own and Loan. You can find out more information here.
Words by Callum Schora