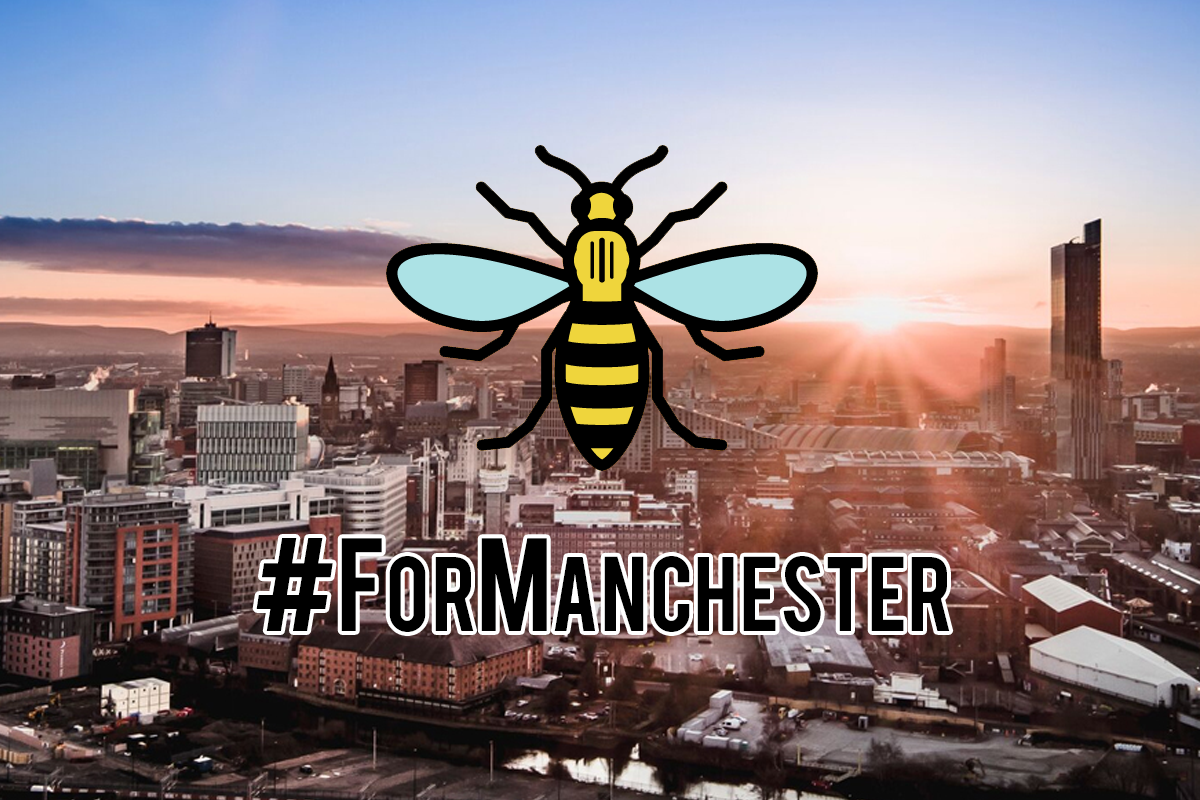 #ForManchester – Teams, Jerseys, & More…
Silver Blades Altrincham, Manchester Storm, Manchester Phoenix and hockey players from all across the UK are proud to announce the participants for this Saturday's eagerly awaited fundraising game (7.30pm) for all those affected in the Manchester Arena attacks. With only four days to go until game time, there are less than 300 tickets left, so our advice is to get in NOW to avoid disappointment.  
ALL proceeds from this fixture will be going to the British Red Cross Manchester Fund.
The "Manchester Bee's" will be a side made up of past and present Manchester Storm players, alongside former Manchester Phoenix players. Former Phoenix and GB hockey legend, Tony Hand MBE, will coach the Manchester team! There are some great names in the Bee's line up such as old Storm hero Mike Morin, and crowd favourite with the Phoenix, Robin Kovar.
"The Manchester Bees" – Manchester Ice Hockey Legends coached by Tony Hand
JAMES NEIL
LUKE BOOTHROYD
BEN WOOD
MIKE MORIN
LEWIS BALDWIN
ROBIN KOVAR
BARRIE MCKENZIE
ALAN HOUGH
PAUL SWINDLEHURST
DANNY BULLOCK
NICK CRAWLEY
LUKE WILSON OWEN
BRIAN WORRALL
STEPHEN FONE
PATRIK VALCAK
The "All Stars" side, looked after on the night by new Storm Head Coach, Ryan Finnerty, boasts Manchester-born (and former Manchester Phoenix), but firm Sheffield Steelers legends Mark Thomas and Jason Hewitt, along with former Storm player, Jonathan Weaver patrolling the blue line.
"All Stars" – coached by Ryan Finnerty
MARK THOMAS
GEOFF WIGGLESWORTH
JASON HEWITT
LEE KEMP
NATHAN CRAZE
GARETH O'FLAHERTY
DECLAN RYAN
DOMINIC OSMAN
LUC JOHNSON
JOE GRAHAM
JAMES ARCHER
JONATHAN WEAVER
DECLAN BALMER
BOBBY CHAMBERLAIN
ALES PADELEK
SIMON McGUINNESS
JERSEYS: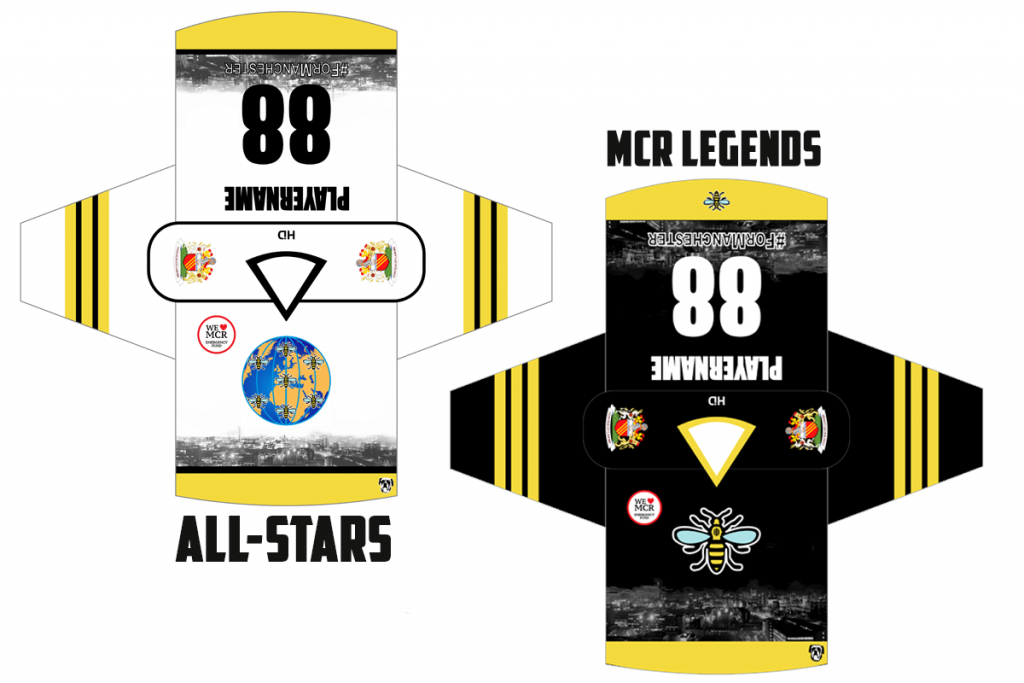 We'd like to thank HockeyDog for their generous offer of producing the jerseys for the game free of charge. Both sets of jerseys will be auctioned off online following the game, so keep your eyes peeled to Storm and SilverBlades social media for when this goes LIVE!
MERCHANDISE:
The Storm OSC and the Silver Blades Storm Shop will both be selling limited edition items for the game. Be sure to check out the respective Social Media pages to see what items they have available in advance of the game!
FREE SKATING:
We're pleased to announce that SilverBlades Ice Rink Altrincham will be offering FREE post-game skating (and skate hire) for anyone in possession of a game ticket until 11pm! #WeAreMCR
TICKETS:
At time of writing this article, there are approx. 300 tickets remaining for Saturdays HUGE game. Tickets are selling extremely fast, so don't delay in getting yours NOW. You can get your tickets by calling 0161-926-8782 or online by clicking HERE!
Date: Saturday 10th June 2017
Venue: Silver Blades Altrincham
Time: Doors open @ 18.45pm. Face Off 19.30pm (Arrive early)