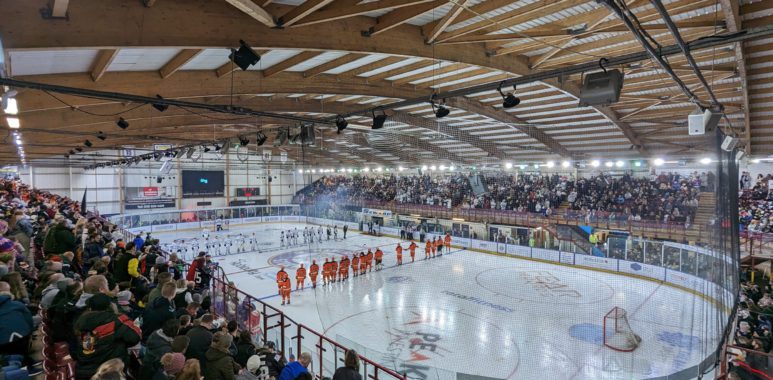 Fans View Update – September 2023
FANS VIEW UPDATE – SEPTEMBER 2023
During the latter stages of the 2022/23 season we invited you to share your thoughts and ideas on how we can improve your match night experience and make the Storm Shelter the best atmosphere possible. Over the last few months our 'behind the scenes' team have been working incredibly hard to implement as many of your suggestions as possible, including working closely with Planet Ice to work on improving the rink facilities.
We received a huge number of suggestions and we hope that you will have already noticed and liked the improvements we have been able to make, such as;
New in-arena merch store layout

Refurbished changing room for the team & an upgraded coaches room to give our guys the best environment possible
Toilets improved with work continuing over the coming weeks
New Storm branding around the rink
Additional hospitality box which opens up a new revenue stream for the club
Brand new PA system which improves overall fan experience
More game incident replays on the big screen

Jersey timeframes – A much quicker process for ordering and delivery. We have implemented a SLA with our jersey supplier and will be keeping a close eye on this to ensure you receive your jerseys as soon as possible.
New merchandise – We have created a brand new online store and in the coming weeks will be adding items to the store. We feel we will be bringing you the widest selection of merchandise across the EIHL with many of your suggestions taken on board and implemented. You will soon see a QR code around the rink that will enable you to go directly to the online store.
Payment plans for season tickets – optional payment plans for season tickets have been available this season and we know it has been hugely appreciated by many of you.
We aren't just stopping there.- we plan to continue to listen to your feedback and make even more improvements to make the 'Storm Shelter' experience the best it possibly can be.
We are always keen to hear from our fans on how we can improve things so if you have any comments or suggestions – email us at
fansview@storm-office.com
Thank-you for your continued support, Manchester!
NEXT HOME GAME: Tickets for our Challenge Cup fixture on Saturday 23rd September 2023 are available online HERE, by calling 0161-926-8782 or in person at the Planet Ice Box Office! Doors open 6PM for a 7PM start.