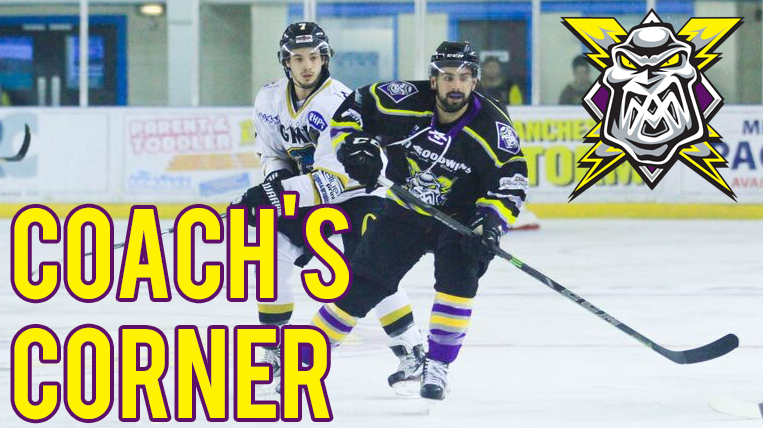 COACH'S CORNER – 05/01/16
Hey Storm fans,
Firstly, Happy New Year to one and all! I hope you all had an enjoyable festive period.
This past week proved to be a really busy week for all of us here at the Storm Shelter. We had 4 games in 7 nights with an extremely reduced squad. I have seen short benches in this league, indeed I coached in Hull last season with a team reduced in numbers, but this week has really been something amazing. We had players out with injuries, guys that were injured who played, and guys playing out of position.
Throughout the week, the boys showed great work ethic and passion both our games & in practice, which is all we ever ask of our players. Indeed, it's all you the fans ask of your team too.
We now look onto a very important stretch of 5 in-conference games. We are hoping to get more bodies back, our medical team are working hard to help ensure this, but if not, we just have to still play hard and with the same passion and energy.
Finally, I can't speak highly enough of our fans this week. They have been tremendous. The players and the staff have noticed the popularity of the Storm continue to grow and grow within the Manchester community. It is amazing to see the Storm Shelter become busier week in week out, and to play in front of a packed barn last Friday vs Sheffield, was incredible to see. Also, to see the magnificent crowd we took to Sheffield the following day was tremendous. The players, management and myself all really appreciate your loyal and loud support!! To think it was only 4 months ago that we took to the ice as a team, to see this continual growth of our club, is magnificent to be a part of.
Hopefully, it will be another full house this Sunday at 5pm against the Braehead Clan @ Altrincham Ice Rink. Bring your family, friends and work colleagues along! You know they'll enjoy it as much as you do!! Give the BOX OFFICE a call on 0161-926-8782 to book your tickets, or go to the club website www.manchesterstorm.com to purchase online!
Thanks,
Pach