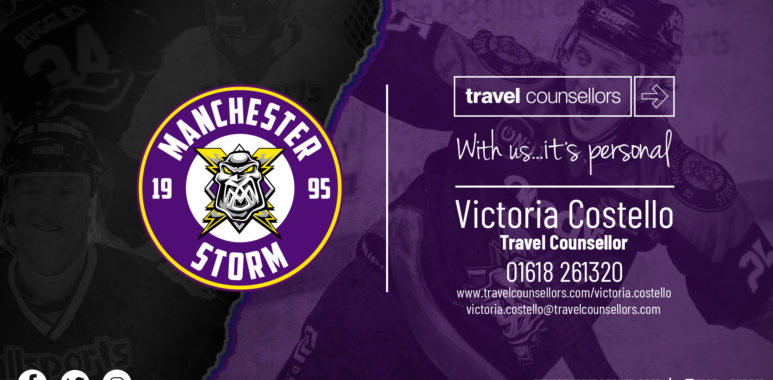 BREAKING | Travel Counsellor, Victoria Costello to sponsor junior hockey sensation, Max Fortier ahead of Elite Series!
Manchester Storm are thrilled to announce a partnership with travel counsellor, Victoria Costello for the upcoming 2021 Elite Series.
Victoria will sponsor newly signed junior hockey sensation, Maxime Fortier, for the duration of the 2021 Elite Series.
Travel Counsellors Ltd. has it's headquarters in Manchester. When it was established in 1994 by David Speakman,  it was a pioneer of home-working Travel Agents and now has operations in 6 Countries.
The last year has had a massive impact on the tourist and holiday industry, and Summer 2020 saw UK holidays at an all time high. With a focus on staycations for 2021, as an Independent Travel Agent Victoria can help you plan your trip anywhere in the UK, from cottages in the Cotswold, to city breaks, or a beach vacation around the coasts.
A specialist in Canada and USA trips; in future, Victoria can also provide her expertise, helping you plan your USA and Canada getaways along with Europe, Far East and Australasia,
Victoria commented: "Obviously the past 12 months has had a huge impact and UK holidays have gone through the roof.
I wanted to try something a little different to generate new business, especially as we offer full financial protection. Last year we came top of Martin Lewis Poll for best travel company during the pandemic to help and refund you in good time."
Show your support for Victoria and find contacts for personal and expert travel advice below, and don't forget to tell your friends:

The club would like to thank Victoria for the support and we look forward to working together over the course of the Elite Series!
Website ( https://www.travelcounsellors.com/victoria.costello link to word on wordpress)
Facebook (https://www.facebook.com/VictoriaatTravelCounsellors link to the word Facebook in WordPress)
Phone: 01618 261320
Email: victoria.costello@travelcounsellors.com
See Max Fortier's stats via Elite Prospects (https://www.eliteprospects.com/player/213461/maxime-fortier)


ELITE SERIES: Manchester Storm take on the Coventry Blaze on Saturday the 3rd April at the Nottingham Ice Arena in Elite Series action! Buy the webcast HERE! Face-off is 2pm!

#2021EliteSeries packages and single games are available to buy NOW! ! Multi-game packages will be available until 23:59 on Sunday 4 April 2021.
#WeAreStorm | #ATTWWY | #Manchester