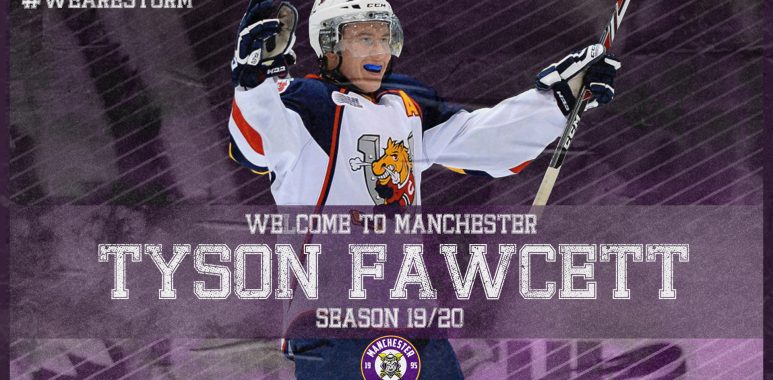 BREAKING NEWS: WELCOME TO MANCHESTER, TYSON FAWCETT
The Manchester Storm are delighted to announce the signing of Tyson Fawcett from Atlanta Gladiators (ECHL).
The Canadian forward climbed through the ranks of junior hockey to make his OHL debut for the Barrie Colts in 2012. Fawcett would go on to make 130 major junior appearances for the Colts and collect 75 points (35G 40A) in his two-year tenure.
The 2014-15 season would see Fawcett trade junior hockey for the professional game; the Brampton Beast of the ECHL would give the young forward his first taste of pro hockey. In his rookie season, Fawcett was a consistent performer for a struggling side and in 59 outings for Brampton he produced 24 points (9G 15A). His reliable play was rewarded with an ECHL All-Star appearance in his rookie campaign.
Fawcett would swap Ontario for Indiana, as he signed for the Evansville IceMen in 2015. His sophomore year continued in a similar vein to his first, as the forward carved out a role for himself in the league. In 72 games for Evansville he produced 42 points (20G 22A) which drew the admiration of Elmira Jackals.
The young forward would begin the 2016-17 season with the Jackals, in the Empire State, before being traded to Tulsa Oilers in January 2017. The move from a floundering Jackals roster would be beneficial for Fawcett as he rediscovered some of his offensive instincts. The following year, Fawcett began the year with the Fort Wayne Komets before finding somewhat of a home in Jacksonville, Florida. The forward would end up making 83 appearances for Jacksonville IceMen, his most for one side in the ECHL, before being traded to the Reading Royals in early 2019. However, this stay in Pennsylvania would be short-lived as one-month later Fawcett would be donning the colours of the Atlanta Gladiators.
Overall, Fawcett has spent five years in the ECHL and represented eight different professional teams. The speedy forward has made 296 ECHL appearances and tallied 122 points (54G 68A) during his time in North America. This will be Fawcett's first year in Europe and the Storm front office are delighted to have secured his services for the 2019-20 EIHL campaign.
The Storm Head Coach, Ryan Finnerty, had this to say about the latest signing:
"I'm really excited to get Tyson. I love the way he competes and I feel he will be a fans favourite soon in the Shelter. Tyson has a lot upside and was an ECHL All Star a couple seasons ago. I believe we can put him in a position to succeed as a player here in Manchester. His style suits ours and I think our fans will love watching him play".
Player Profile
Position: Forward
Age: 26 years old
Shoots: Right
Height: 5ft 7
Weight: 75 kg
If any businesses or individuals would be keen to learn about a fantastic "full player sponsorship" for Tyson Fawcett, please email liam@storm-office.com for more information.
The Manchester Storm OSC are delighted to announce the launch for 2019/20 Own and Loan. You can find out more information here. Keep your eye on the OSC social media for more future announcements