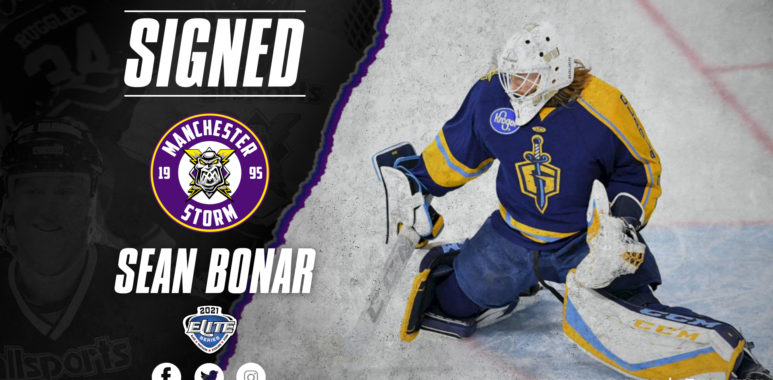 Elite series
Latest News
Uncategorized
BREAKING: Manchester Storm sign netminder SEAN BONAR from Jacksonville Icemen!
Manchester Storm are excited to announce the signing of netminder Sean Bonar from Jacksonville Icemen (ECHL).

The vastly experienced Canadian netminder has spent, up until now, his entire professional career in the USA. However, before his venture into the professional leagues Bonar attended the prestigious university of Princeton and started over NHL netminder, Mike Condon.
In 2014-15, Bonar made his professional debut with Indy Fuel (ECHL) and would go on to sign with another four teams in his rookie campaign in the pursuit of regular minutes. The following season Bonar was able to secure a starting spot with Fayetteville FireAntz of the Southern Premier Hockey League. In 13 starts, Bonar averaged 1.89 GA and .936 SV%, this consistent would regularly see him called up to the ECHL throughout 2015-16.
In 2016-17, Bonar continued with Fayetteville FireAntz and would go on to be recognised as SPHL: MVP, Goaltender of the Year and a First-Team All-Star, with 2.07 GAA and .927 SV% in 49 appearances. The season after, Bonar established himself as a regular ECHL starting netminder for Atlanta Gladiators with a solid 2017-18 campaign earning a contract extension and pipping fellow Storm netminder, Matt Ginn, to the starting position.
The 2018-19 season with Atlanta, Bonar again provided very solid goaltending for the side with 2.41 GAA, .919 SV% and 23-17-6 season record. In 2019-20, Bonar represented Atlanta for the third straight season and split the starting minutes with Chris Nell, with 20 starts before the season was curtailed.
Bonar has already made 18 appearances ECHL this season and leaves North America with an ECHL career record of 137 GP, 3.00 GAA, .904 SV% and 52-57-16. The well-travelled Bonar will arrive in Manchester next week ahead of the Elite Series with a point to prove and a starting position for the 2021-22 season up for grabs. 

MORE TO FOLLOW…


ELITE SERIES: Manchester Storm take on the Coventry Blaze on Saturday the 3rd April at the Nottingham Ice Arena in Elite Series action! Buy the webcast HERE! Face-off is 2pm!

#2021EliteSeries packages and single games are available to buy NOW! ! Multi-game packages will be available until 23:59 on Sunday 4 April 2021.
#WeAreStorm | #ATTWWY | #Manchester