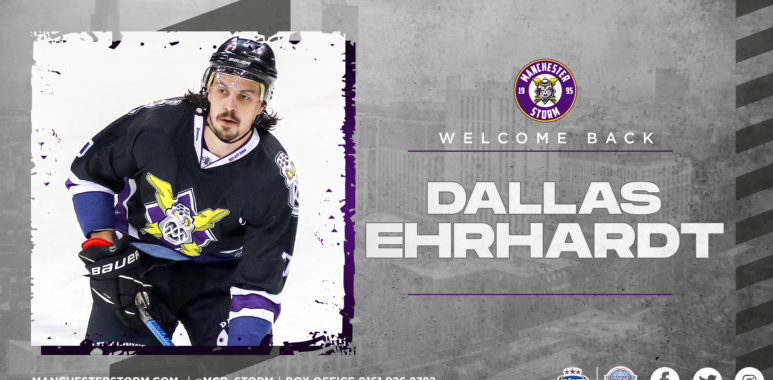 BREAKING | Franchise cornerstone Dallas Ehrhardt returns for fifth Elite League season!
Manchester Storm are excited to announce the return of captain and franchise cornerstone Dallas Ehrhardt for his fifth full EIHL season.
The blueliner is the most capped player in franchise history, with 249 outings for the club.
The dual-national has also represented Great Britain (since 2018) and has made 20 international appearances, whilst squaring off against some of world's finest hockey talent in the process.
Ehrhardt's ability to quarterback the powerplay and led both on and off the ice ensured Ryan Finnerty would be re-signing the defencemen upon the conclusion of the Elite League Series.
The Head Coach had this to say about bringing Dally back for another season:
"Dallas is our leader, blueline playmaker and at just 28, he provides a veteran presence in our dressing room. I have placed a real emphasis on building a good and stable dressing room this off-season, a lot of this planning has involved Dally and he is super excited to get back onto the ice.
Having an international standard player in the line-up is significant for our franchise, as we continue to develop young British players. Dallas' experiences at this level are something we continue to learn from and are looking build upon.
I know the fans will love this re-signing and Dallas loves donning the Storm jersey, so it really is a win-win for the club."

Welcome back to Manchester, Dallas!

#WeAreStorm | #Manchester