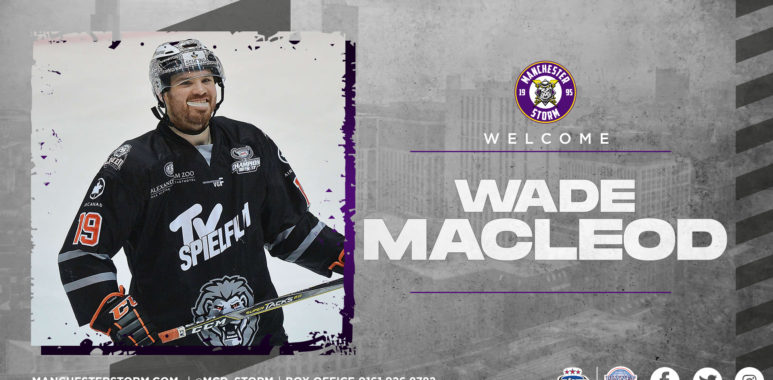 BREAKING | AS SEEN ON ITV GRANADA REPORTS, STORM SIGN EXPERIENCED FORWARD, WADE MACLEOD!
Manchester Storm are pleased to welcome new signing, Wade MacLeod to the club for the upcoming 2021/22 season.
The Canadian forward joins Manchester for his debut EIHL season, also bringing AHL experience to the team.
The 2017/18 season saw MacLeod in Germany, icing for DEL2 team Löwen Frankfurt, where he claimed on average a point per game, tallying 49 points, including 25 goals and 24 assists. MacLead stood out once more when icing for DEL2 side, Starbucks Rosenheim in 2015/16 when he racked up 61 points in 50 games.
Graduating from four standout seasons at Northeaston University icing for the Huskies, 2011-2014 saw MacLeod simultaneously split his time between AHL and ECHL teams. MacLeod's first three professional seasons gave him ice time with AHL side, Springfield Falcons, where he tallied 43 points in 95 games.
During his second season for Springfield, MacLeod received a check into the glass and was incidentally diagnosed with cancer when a scan for concussion revealed a tumour on the brain. Still, he pursued his hockey career whilst battling cancer, undergoing four brain surgeries plus radiation and chemotherapy treatment to combat the tumour.
In 2013/14, MacLeod made his move to the Maple Leafs' affiliate team, the Toronto Marlies (AHL) where he racked up 15 points in 34 games. He also shared the season contract with Orlando Solar Bears (ECHL), claiming an average of a point per game.
Former ECHL teams for the left-handed forward include Allen Americans, Idaho Steeldogs, Orlando Solar Bears and Evansville Icemen. Overall, in 104 games, MacLead tallied a very impressive 108 points. In 2014/15 MacLeod also made the first ECHL All Star Team.
The club is thrilled to welcome MacLeod back after a few years out and we're sure Storm fans will give him a huge welcome when he skates onto the ice in September.
Head coach Ryan Finnerty commented:
"If you look at the impact somebody like Byers had on our franchise – then that is the sort of thing we are hoping to get from Wade. He has had his health struggles in recent times but has got himself into unbelievable shape for this campaign and will be a model professional for our team.
He wants to play pro hockey for the foreseeable future and I feel like we are very much the right place for him to restart his career. Wade was a point-per-game player in the ECHL and if we can get that level of production going again, then we have found ourselves a hidden gem and potentially Top 10 forward in this league…which we know is always tricky to do on our budget.
He is excited to pull on the Storm jersey and get back to making plays in the professional ranks. I am thrilled to have got this deal over the line, as I know the fans will adore his work ethic."
You can view more of Wade's stats via Elite Prospects, click here.
Player profile
Age: 34
Position: Forward / LW
Height: 5'11"
Weight: 84kg
Shoots: Left
Nationality: Canadian (British Columbia)

Welcome to Manchester, Wade!

#WeAreStorm | #Manchester