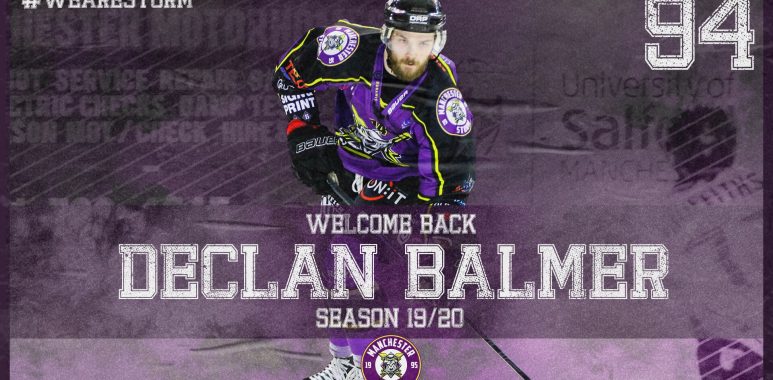 Welcome back to Manchester, Declan Balmer!
SEASON TICKETS: The Go Goodwin's Manchester Storm are pleased to announce that season tickets for the 2019/20 Elite Ice Hockey League season are now available to purchase. Season Tickets can be ordered here. The deadline for the Early Bird offer is Friday 31st May.
Your Go Goodwins Manchester Storm are thrilled to announce, British defenceman, Declan Balmer will be returning to the Storm Shelter for the 2019/20 season.
Previous teams for the 23-year old include Kingston Crunch, Bradford Bulldogs and Peterborough Phantoms. 2014-2017 saw the defenceman icing for EPIHL side, Basingstoke Bison, where he totalled 57 points across three seasons. Balmer has played 15 games with Great Britain U20s, claiming a gold medal in the World Junior Championships 2014/15. A hard working player on the ice, Balmer was also handed the "A" during his time with the U18s GB team.
The 2017/18 season with Storm saw Balmer playing his part in winning the Patton Conference trophy. It was a season to remember, with the Storm reaching second place in the EIHL during his club debut. 
The 2018/19 season also had it's highs for the defenceman; the highest attended game at the Storm Shelter against Sheffield Steelers and a televised win against the Guildford Flames to name just a few.
The left-handed blueliner is the latest Brit to be re-signed to the club alongside forward, Adam Barnes. Now a reputable member of the Storm and entering his third season, Balmer is a solid and reliable stay at home defenceman, who gets the job done.
Head coach Ryan Finnerty is pleased with Balmer's re-signing commenting:
"We are happy to have Balms back.  We are looking for him to continue to progress and push for more ice time."
#94 added,
"I am excited to be back with the Storm and playing for Finner. As a coach, I feel he is the perfect fit for me."
If any businesses or individuals would be keen to learn about a fantastic "full player sponsorship" for Declan Balmer, please email liam@storm-office.com for more information!
Player profile
Position: Defence
Age: 23
Shoots: Left
Weight: 196lbs
You can see more on Balmer via Elite Prospects here.
The Manchester Storm OSC are delighted to announce the launch for 2019/20 Own and Loan. You can find out more information here. Keep your eye on the OSC social media for more future announcement, so you don't miss out!
Words by Shelly Kiely