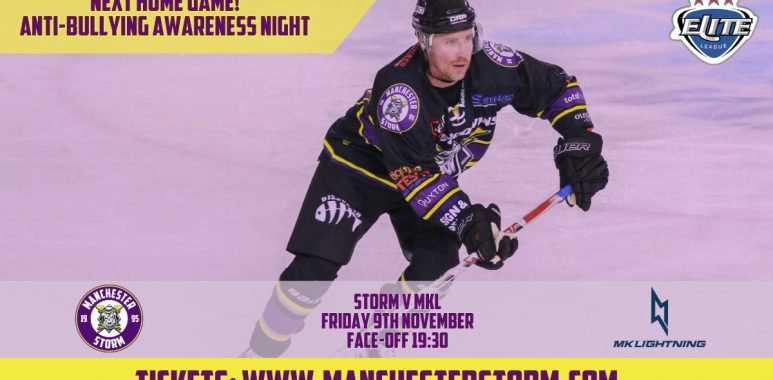 Anti-Bullying Week: Special Offer to Schools and Community Groups for this Friday's Game!
Tickets for Storm's upcoming game against MK Lightning can be ordered online HERE, or by calling the box office on 0161 926 8782, or in person at the box office.
This Friday 9th November, your Go Goodwins, Manchester Storm will be hosting an anti-bullying awareness night in order to kick-start Anti-Bullying Awareness Week (12-16 November). There is a special ticket offer for all schools and community groups for this game against conference rivals, Milton Keynes Lightning. For more information, contact liam@storm-office.com
Bullying is unfortunately something everyone has probably had to deal with at some point in life. Research shows that over 50% of people aged under 25 will have experienced bullying. 1-3 victims will self-harm and students grades are affected due to mental health problems associated with bullying. Across the next few weeks the club, both staff members and players, will be giving their best effort to raise awareness, be it about cyber bullying, or mental and physical bullying.
Gather your friends and relatives and head to the Storm Shelter this Friday and help us stamp out bullying and help improve the lives of those who are currently victims.
The theme for this year's Anti-Bullying Week 2018 campaign, has been announced as 'Choose Respect.' 
You can find out more about anti-bullying week 2018 here. If you are in a situation where you feel yourself or someone you care about needs some support, take a look at the Stop, Speak Support website.
The OSC have a Storm Smartphone Quiz event at Cresta Court Hotel, on Sunday 11th November, 4pm-7:15pm  email eventsstormosc@gmail.com to book!