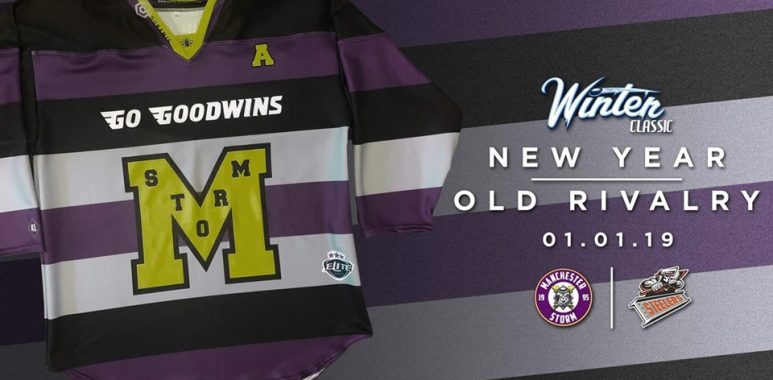 Winter Classic: Jersey Reveal!
Tickets for Storm's upcoming "Winter Classic" game against Sheffield Steelers 1st January can be ordered online HERE, by calling the Box Office on 0161 926 8782, or in person at the box office. There are only 350 tickets left and they're selling fast so book to avoid disappointment!
Your Go Goodwins Manchester Storm are delighted to unveil the jersey design for the "Winter Classic" themed game, seeing in the New Year against Sheffield Steelers, 17:30 face-off!
The one of a kind jerseys will be online via Storm Sports Store from 5pm on 2nd January! These game worn jerseys will be priced at £150 each, and signed by the player it belonged to.
The special themed Winter Classic jerseys will be available for collection following the next home game, Sunday 6th January – against Nottingham Panthers. The lucky owners will not only get a brand new jersey, but also a photo with the player when they go to collect post game. Stay tuned for further information on this event!
The game worn socks will also be available to purchase in Storm Sports Store at the rink for just £10 from the 2nd January following Winter Classic game. This is a great chance for any recreational hockey players to pick up a bargain.
Skate with the Storm!
This is a reminder that the second Skate with the Storm event of the season will be held on Wednesday 2nd January, 9:15-10am! This gives fans and families the chance to get signatures and photos with the players early on in the year. There will be a professional photographer on the ice taking photos throughout the event and the cafe will be open for hot drinks. Skate hire is just £2.50, and the event is free with own skates
Whether you're off work while the kids are off school, or just want something different to do, come along to the Storm Shelter and skate with your favourite players. Everyone is welcome.
If you can't make it then don't be disappointed, as the club and the OSC will be hosting plenty of special events across 2019!
Follow Storm Sports Store here and visit the website here, to avoid any disappointment when it comes to purchasing your favourite players jersey.
Have you seen the OSC's kit club and sponsorship opportunities for this season? Find out more about the player stick sponsor here and keep your eye out on their social media for upcoming OSC events!