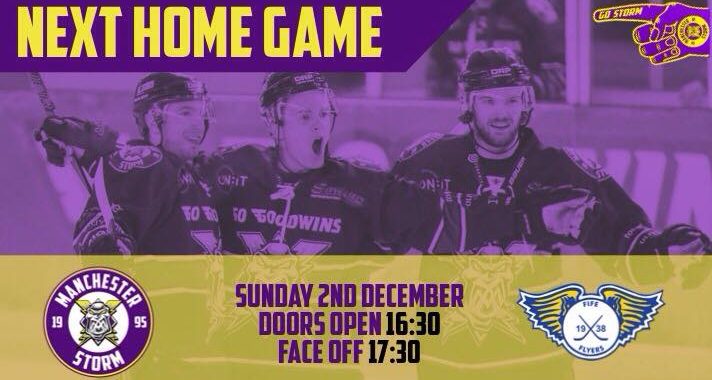 Latest News
Match Previews
WEEKEND PREVIEW: Storm Face Flyers at Home!
Tickets for Storm's upcoming game against Fife Flyers can be ordered online HERE, or by calling the box office on 0161 926 8782, or in person at the box office. Tickets for Tuesday's  Challenge Cup Quarter Final against Nottingham Panthers also available for just £10!
MILTON KEYNES LIGHTNING – SATURDAY 1ST DECEMBER, 7:00PM, PLANET ICE MILTON KEYNES
Manchester Storm take the road trip for the first time this season, to face Patton Conference rivals, MK Lightning!
Storm have taken four points at home in their two games against Lightning so far this season, winning 4-1 in September and  4-3 last month.
Last week it was announced forward,  Eric Neiley would be leaving the club to go to last season's team, Sheffield Steelers. Since Storm and Lightning last faced each other, coach – Doug McKay announced he was resigning from the club due to personal reasons. It has since been announced that players, Tim Wallace and Ryan Lannon would be stepping in as player coaches.
If you are travelling to watch this game then why not purchase a teddy bear, as Lightning host their annual Air the Bear fixture. The bears will be used by the MK Hospital Charity to help with their fundraising for the new Cancer Care Centre.
FIFE FLYERS, – SUNDAY 2ND DECEMBER, 5:30PM, PLANET ICE ALTRINCHAM  
This last time the Flyers visited the Storm Shelter earlier last month, Storm get a win, with goals from Byers, Hammond and Richardson. Overall, there was a total of five goals and 30 penalty minutes across both teams.
The Flyers currently sit in fourth place in the league table with 28 points, so expect a competitive game. Storm look to continue their point streak at home, having narrowly missing out on the win against Cardiff Devils last weekend – taking it to overtime. In the last ten games at home, Storm have secured 18 points out of a possible 20.
One to Watch: Paul Crowder
MATCH NIGHT INFORMATION
Doors open 2nd December 16:30pm
Face-off 17:30pm
SOTB TBA
Stick Raffle TBA
Ticket information can be found here
50/50 & "Chuck A Puck" can be bought from the OSC stall, underneath block 113, and from match night sellers based around the rink
Having to miss the game in person? The webcast can be bought HERE thanks to Storm TV
The Station Hotel, Storm's official pub, will be open to fans for pre-match drinks
Find the information for the rinks entrance arrangements here
Manchester Storm's next home game following this Sunday is against Nottingham Panthers, as we host the first leg of the Challenge Cup Quarter final, 7:30pm face-off! Tickets are only £10 for adults and £5 for children so don't miss out!
The club's OSC are hosting the Storm's Christmas Party, Tuesday 18th December at Cresta Court Hotel, 19:00 – late. Email events.stormosc@gmail.com to book, or visit the OSC desk under block 113 on match nights.