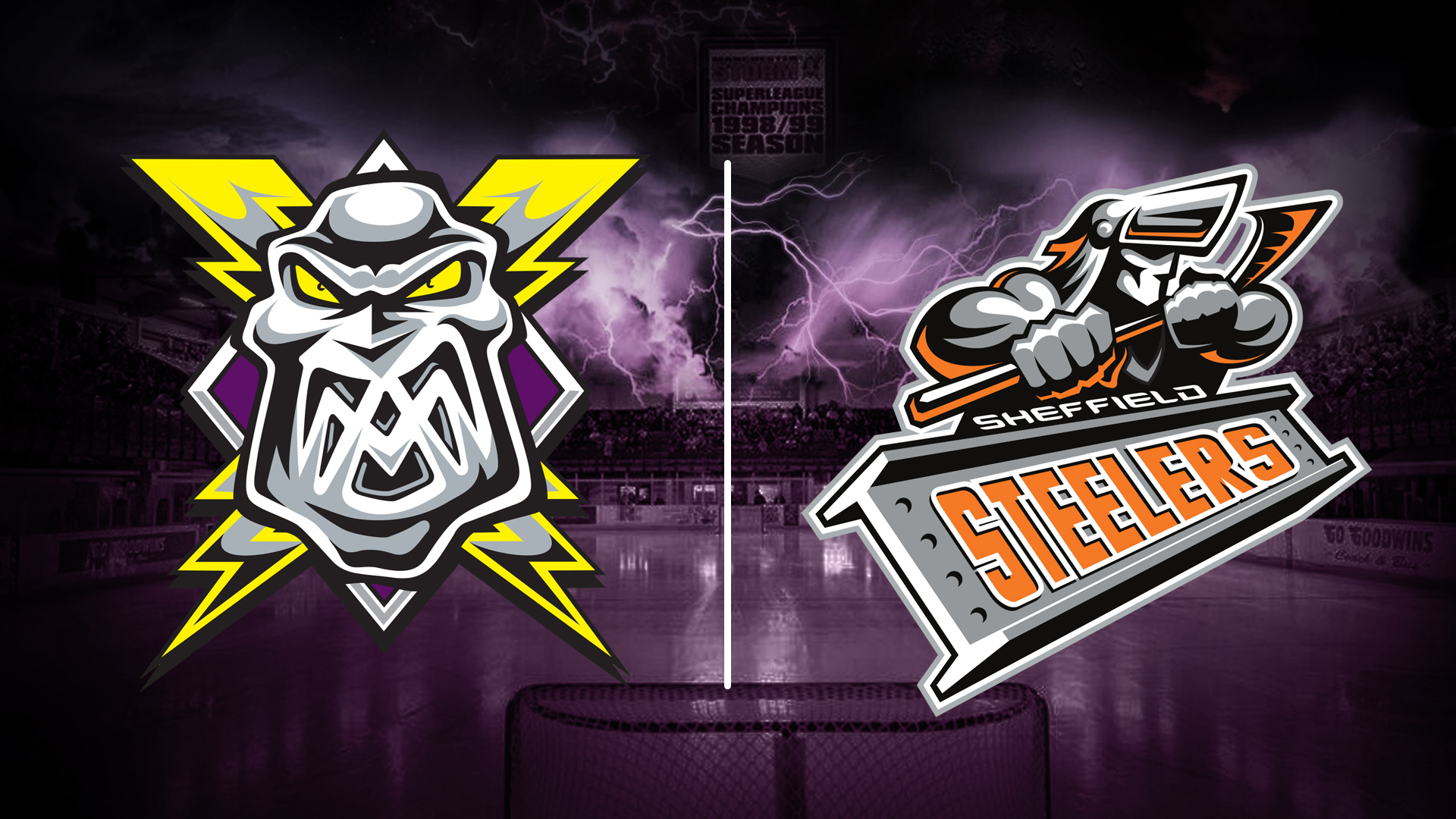 Latest News
Match Previews
Weekend Preview: Let the War of the Roses begin…
PRE-SEASON TICKETS: The Go Goodwin's Manchester Storm are gearing up for the 2016/17 Elite Ice Hockey League season with a home game vs the Sheffield Steelers on Sat 3rd September @ 7pm. Tickets can be ordered online or by calling the box office on 0161 926 8782, or in person at the box office.
You Go Goodwins Sponsored Manchester Storm return to the ice this weekend with a 'home-and-home' series against the Sheffield Steelers, with the Steelers making the short trip over the pennines to Altrincham on Saturday, 3rd of September (7 pm faceoff) and the Storm making the return journey to the Sheffield Arena on Sunday, 4th of September (5 pm faceoff).
Evolution, not revolution, was the mantra for Steelers' head coach Paul Thompson over the summer as he aims to build on last year's success and win a third straight Elite League title for the Yorkshire based team. Departing players from last season included fan favourites Jason Hewitt, who has joined Hull Pirates of the EPL, Freddie Vestberg, and the retiring Cullen Eddy.
Netminding was one area that the Steelers wanted to improve on last season, and Latvian international Ervins Mustukovs brings in a wealth of top-league experience including time in Denmark and the Allsvenskan in Sweden. He is backed up by 22 year old Brad Day, who achieved a save % of 91.3 in his 10 outings last season for the Steelers. Coach Thompson has confirmed that Day will get the start in Saturday's pre-season exhibition game, whilst Mustukovs will be back in nets for Sunday's Challenge Cup action.
On the blue line, the size of Zack Fitzgerald, new-recruit Anders Franzen and ex-Storm player Davey Phillips is juxtaposed with the skill and skating ability of Ben O'Connor and Mike Ratchuk, who brings several years of AHL and ECHL experience. The defence is rounded out by smooth-skating Swede Christoffer Bjorklund, and utility-man Rod Sarich.
Last season the Steelers scored 26 goals against the Storm as they swept the series 6-0. Charged with putting the puck in the net this weekend are the returning Dowd, Fretter, Mosienko, and Nelson. Dowd has been on fire already this pre-season, scoring 3 goals in the Steelers' 3 CHL games and 1 in the exhibition games against Aalborg. Further goalscoring is provided by Jesse Schultz, who has scored goals in a number of North American and European leagues, and he is joined by Swedes Markus Nilsson and Andreas Valdix, Brits Jonathan Phillips, Liam Kirk, Cole Shudra, and Luke Ferrara, and Mathieu Roy and John Armstrong from Canada.
Coach Thompson has confirmed that last seasons top goalscorer Mathieu Roy will miss Saturday's exhibition game with an injury, but should be back for the game on Sunday, and young Brits Shudra & Kirk will get increase icetime in Altrincham. Coach Pacha will be aiming to set down a marker for the rest of the season against the Storm's closest rivals.
ONE TO WATCH: Faceoffs are a key part of the game, and Canadian John Armstrong is somewhat of a specialist. At 6'3" and 212 lbs he's a big body, and Heatley, Bissonnette, and Dickin will be in for a battle on the faceoff dots.
SATURDAY MATCH DETAILS:
Doors open from 6pm
Face-off at 7pm
There is free ice skating (inc. skate hire) post game tonight
Live Twitter updates from the game will be via StormLive
There is NO live stream
"Shirt Off His Back" is netminder #40 Mike Clemente
50/50 & "Chuck a puck" will also be running
SUNDAYS MATCH DETAILS:
Game at Motorpoint Arena Sheffield: Broughton Lane, Sheffield, Yorkshire, S9 2DF
Doors open from 4pm
Face-off at 5pm
Live Twitter updates from the game will be via StormLive
Live stream via SteelersTV –  £8.00 preorder, £10.00 on day
Stormforce Away travel – Spaces still available on the Go Goodwins Coach – Details
Tickets for Saturdays home game are still available, but are selling fast, so to avoid disappointment be sure to buy before you arrive via the box office or online HERE.