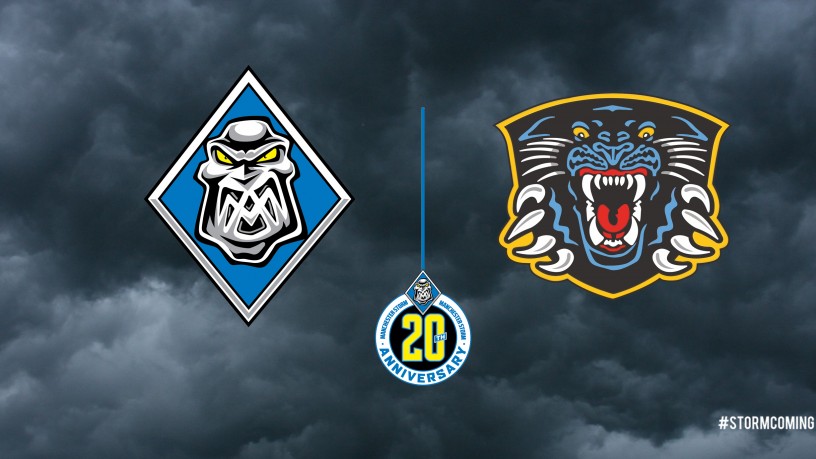 Manchester Storm 2-5 Nottingham Panthers
NEXT HOME GAME: The Go Goodwins Manchester Storm face the Fife Flyers at the Storm Shelter this Sunday (5:00pm face-off) in the second of three themed "Retro Nights". Tickets can be purchased online via the website, calling the box office on tel: 0161-926-8782 or on the day at the box office.
Manchester Storm hosted their first Retro Night this evening in front of a packed Storm Shelter, but were unable to come away with the 2 points, despite taking the lead early on in the 1st, loosing 5-2 after a very physical game to the Nottingham Panthers.
The first started as well as the Storm could of wanted, with player coach Omar Pacha (3rd of the season) slotting home just over 2 minutes into the period off of a beautiful backhand pass by Grant Toulmin. The Storm continued to keep the pressure up, and pressed home for their second – but it was the Panthers who were the next on the score sheet, with Chris Lawrence grabbing his 8th & 9th of the season in a 6 minute period of Panther pressure. The Storm however didn't give up, and with 34 seconds remaining on the clock, Paul Phillips (7th of the season) scored an absolute zinger of a goal from the blue line to send the Storm Shelter wild, tying the game up 2-2 just before the buzzer.
The Storm came out strong in the second, however after taking a penalty, it was the Panthers who were the first to score during the middle period, with David Clarke netting his 10th of the season. The game continued to be a highly physical affair, seeing fights and hits coming from both sides. Despite the continued pressure from the Storm, they were just unable to find away past Green in the Panthers net.
The third period saw the Panthers up their game, and score twice in a 4 minute period to put the game to bed. The Storm however, fought until the very end and made the Panthers fight for every inch of ice. Despite this determination, the result was decided with 6 minutes to go and the final score ended up Manchester Storm 2-5 Nottingham Panthers
MOM for the Manchester Storm: #42 Paul Phillips
MOM for the Nottingham Panthers: #18 Chris Lawrence
The Storm are next up on the 27th against the Fife Flyers in the second of the Retro Game series.