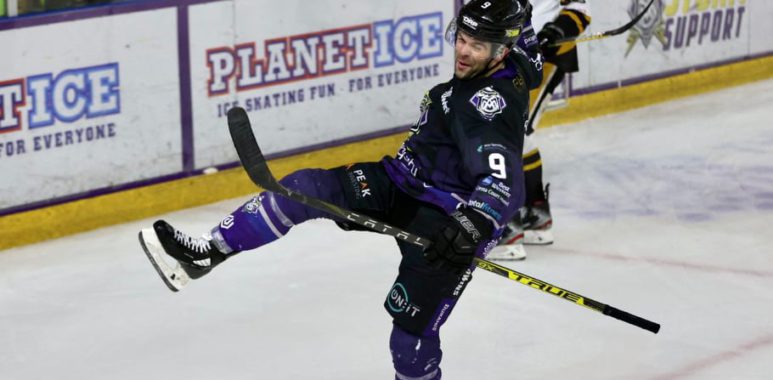 TERRIFIC HOME PERFORMANCE FOR MANCHESTER RESULTS IN 4-2 VICTORY
A terrific home effort and performance saw the Manchester Storm outwork Nottingham Panthers to take a deserved 4-2 decision.
A well-paced opening period saw both sides cancelling each other out before fashioning an real scoring opportunities. Until a converted powerplay broke the deadlock in the 14th minute, as Simmonds; Brady and Ehrhardt combined to good affect.
The hosts advantage would quickly double through an excellent team goal, in the 17th minute, with Brady converting a well-timed Simmonds and Melton set-up manoeuvre. The middle period started in a very similar fashion to the first, as each side struggled to trouble the respective netminders early in the period. A face-off win by veteran Myers and quick pass from Thow saw British forward Betteridge slot home from close range, in the 24th minute.
The Storm looked set to take a deserved one-goal cushion into the final twenty minutes of play until Carozza and Baillargeon opportunistically combined to sneak the puck beyond Bacashihua – with only 27 seconds remaining in the period to draw the game level. The mounting pressure and suffocating forecheck by the hosts, in the final third, would eventually be rewarded through a second Brady goal – in the 51st minute.
The teams leading points scorer would be assisted on this occasion by Frankie Melton, as the diminutive American forward found his new linemate open infront of the Panthers net. More good work from the hosts forwards created a turnover deep in the attacking zone that would be rounded off by the in-form VanWormer – with helpers on this occasion going to Albrecht and Thompson.
A late and high hit by Brady Norrish would see the the forward ejected from the game and allow the Storm to smartly control the puck, whilst on the man advantage, until the final horn sounded.