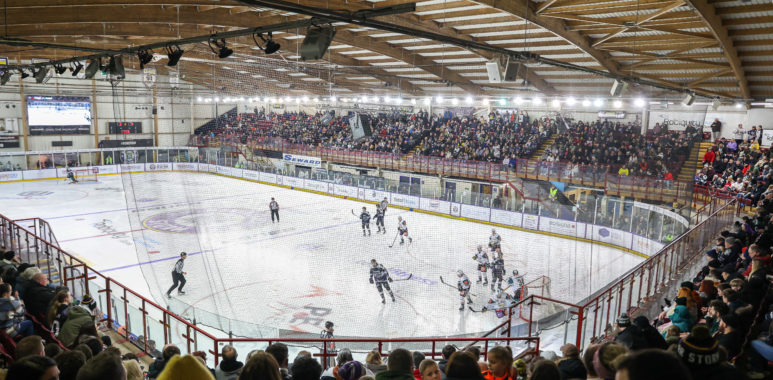 TABLE TOPPING GIANTS WIN INSIDE PACKED STORM SHELTER
The table topping Belfast Giants were the visitors on Sunday evening. The Storm had a rare Saturday night off yesterday having taken a big win down in Cardiff on Thursday.
The Giants didn't take long to take an early lead. A stretching pass down the centre was picked up by Gilbert on the blue line as the forward turned and then rushed to the net, beating Brodeur at the near post with a strong backhand shot. Storm responded well creating some good chances and coming close on a couple of occasions. The Giants thought they had doubled their lead at the midway point of the period, but the goal was rightly waved off after Brodeur's helmet was knocked off in the build up. A speculative shot from Cooper from just over the goal line put the visitors up by two after the puck squeezed in between the post and pads. The Giants had the majority of the possession in the latter stages of the period, however the Storm had some decent looks at goal themselves especially on the counter attack.
The middle period started much the same as the first with the Giants scoring within the opening minutes. Roach fired past Brodeur who was left scrambling trying to cover his back post. Again the Storm upped the pace but struggled to find a way past the imposing Beskorowany. A fourth followed for the visitors scored by Eriksson who raced up the wing and despatched a strong wristshot past Brodeur. Tempers flared not long after when Fawcett dropped the gloves with Cooper, following an illegal hit on Sullivan which left the defenceman struggling back to the bench. Both players received five minute fighting majors with Cooper picking up an additional two for boarding.
No further scoring left the Storm four goals down heading into the second intermission. DeLuca came close to cutting the deficit in the third, narrowly missing from close range after some nifty stick handling. Storm finally found a way past Beskorowany when Barrow lasered a one-timer into the Giants net with Simmonds and DeLuca picking up the assists. The Giants seemed to sit back at this point, not overly committing on the forecheck. The clock ticked by however and despite a solid effort the Storm lost out to the title contenders four to zero.