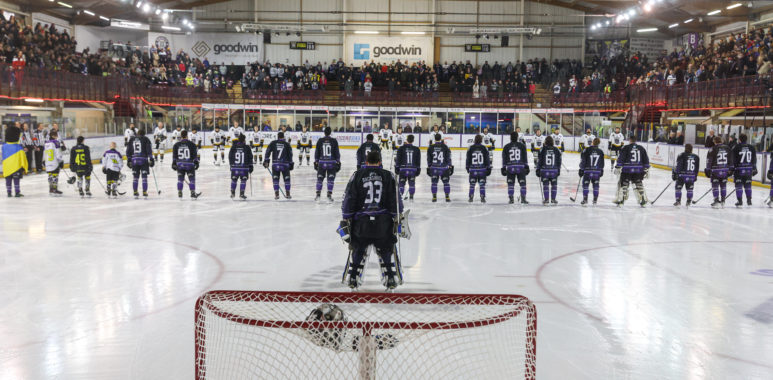 STORM WIN ELEVEN GOAL THRILLER INSIDE THE STORM SHELTER!
An excellent turnaround and special teams performance by the Storm saw them continue their good form again Nottingham Panthers with the 7-4 victory.
A nightmare start for the Storm saw the visiting Panthers score twice inside the opening minute of the game. Smart finishes by Carozza and Welsh sent the large travelling Panther support into euphoria, as they made the dream start. An unbelievable save by Carr robbed young Brit Ulrick a deserved goal, as he went coast-to-coast in the 8th minute. However, the hosts would get themselves on the board, in the 16th minute, through captain Ehrhardt after a net front scramble.
The Storm powerplay continued its effectiveness early in the middle period, as traffic infront of the goal enabled Simmonds the time to tap-in the rebound after the initial shot by Ehrhardt. Not long after, a centre ice turnover by the hosts would cost them dearly as Betteridge converted the 2-on-1 opportunity, in the 27th minute. Although, a battling Storm were able to draw level before the final intermission, as Ehrhardt scored his second in the 32nd minute. This goal would be the third powerplay marker of the night, as the Storm's strategy of putting bodies in-front of Carr continued to be effective.
The see-sawing encounter saw the Panthers retake the lead through Baillargeon, in the 48th minute. However, this advantage would soon be erased when another net front scramble saw Critchlow get the decisive touch to level things again, as the hosts refused to go away in the match. The Storm's red-hot powerplay registered its fourth goal of the night, courtesy of a VanWormer tip-in and when Ulrick's wristshot ripped into the top corner moments later, the Shelter's infamous atmosphere was quickly rekindled. An empty net goal by VanWormer in the final minute of the game would ensure the two points would stay in Manchester ahead of the reverse fixture tomorrow.