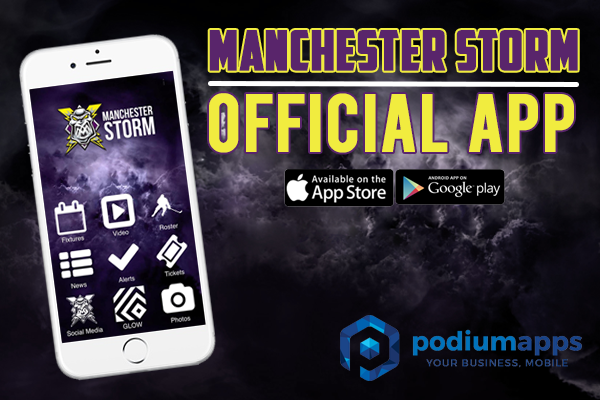 Storm welcome Podium Apps & launch Official Storm App!
The Go Goodwins Manchester Storm are delighted to announce the launch of our official smartphone app & welcome Podium Apps onboard as a sponsor for the 2016/17 season.
The new app, which is available on both iPhones and Google Android smart phones, has been in development for the past few months, and features the ability to purchase tickets, view fixtures, and get up to date news about your Manchester Storm, as well as many more special features including "STORM FLASH" which fans will be able to use during "black out" before every game!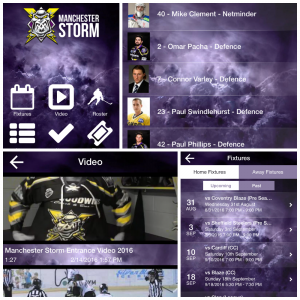 Neil Russell, GM for the Manchester Storm, couldn't be happier with having Podium Apps on board:
"The Storm App is something fans asked me about continually last season, so it was an aim of mine to ensure we got this done. I've been in regular contact with Kieran from Podium Apps the past while to make sure we had it exactly the way we want it. I'm very confident that fans will enjoy having it on their Smart phones and find it easy to navigate around. I love the new "Storm Glow" section, it's going to look awesome in the rink during black out as the anticipation builds before the players hit the ice. Podium Apps have been exceptional to deal with, so if you or your business require an App, i highly recommend their services."
Kieran Donnelly from Podium Apps also had a few words about the launch of the new Storm App:
Podium Apps are delighted to be selected to provide the Official Manchester Storm mobile app and hope that fans enjoy connecting with their favourite team on their mobile phones. 

Podium Apps are a leading mobile app development company focussed on businesses & organisations with either repeat customers or members. 

Whether you're a sports club, school, church, cafe, restaurant, nightclub, hair salon, conference,  gym or are in need of a mobile app we've likely developed something similar for you before, and would love to discuss your app requirements. To get in touch with us please contact kieran@podiumapps.com. 
You can now download the Storm app for Apple iPads & iPhones HERE and on the Google Play Store HERE.
For more details on Podium Apps please click HERE. Podium Apps have also recently set up their new Twitter account, so give them a follow by clicking HERE.