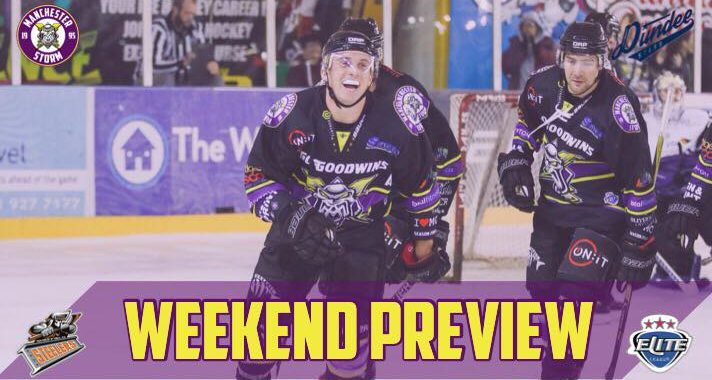 Latest News
Match Previews
WEEKEND PREVIEW: Storm Face Stars on Home Ice for the First Time This Season!
Tickets for Storm's upcoming game against Dundee Stars can be ordered online HERE, or by calling the box office on 0161 926 8782, or in person at the box office.
Last weekend saw a home game against Coventry Blaze, as the club lifted the Patton Conference Banner to celebrate last seasons success! Storm came out on top, winning 5-2 and taking the two points in regular time at home.
This weekend sees a home game tonight against Dundee Stars, before the Storm head over to Sheffield tomorrow for a new face-off time of 4pm. If you plan on taking the trip to Sheffield this weekend for the away game, you can purchase tickets HERE.
With rail strikes and tram maintenance causing some disruption this weekend, plan ahead to get to the game on time.
DUNDEE STARS, October 20th, 19:00 face-off, Planet Ice Altrincham.
Omar Pacha and the Dundee Stars visit the Storm Shelter for the first time this season. Storm made the journey up to Dundee a month ago, for their first meeting, and took them to penalty shootout, winning 2-1, with goals from Linsmayer and Moffatt.
At just one place below Storm and trailing by one point in the EIHL table, Stars will be doing their best to take the two points back home with them. Storm are on a four win streak at home and will be aiming to make it five in a row. It's not a game to miss!
One to Watch: François Bouchard. Despite not playing last season, Bouchard has some impressive stats, being drafted at #25 in the second round of the 2006 NHL draft, by Washington Capitals.
SHEFFIELD STEELERS, October 21st, 16:00 face-off, Fly DSA Arena.
Both teams have faced each other twice so far this season, competing for the Challenge Cup. September 15th saw the Storm take the win 3-2 , in a thrilling penalty shootout, with Linsmayer claiming the winning goal.
Steelers visited the Storm Shelter the following weekend for Challenge Cup. Storm narrowly missed out on overtime, when Steelers claimed the winning goal and two points in regular time, taking it to 2-1 in the final 15 seconds of play.
Arriving recently, new Head Coach, and ex NHL netminder, Tom Barrasso joins Steelers from Italian side, Asiago of the Alpine League. Swedish centre, Jonas Westerling has also recently returned to the club, post the Rupert twins departure.  This Sunday sees both teams meet again, this time for a regular EIHL season game.
MATCH NIGHT INFORMATION
Doors open Saturday 20th from 6:00pm
Face-off is at 7:00pm
With rail replacement busses and engineering works on tram links this weekend, please allow extra time to get to the rink or try and organise car share.
SOTB is netminder, Matt Ginn
Stick Raffle is Ciaran Long
50/50 & "Chuck A Puck" can be bought from the OSC stall, underneath block 113
Can't make the game? The webcast for the game can be bought here via Storm TV for £10
Skating is available after the game to anyone with tickets, free with skates or £2.50 for skate hire.
The Station Hotel, Storm's official pub, will be open to fans for pre-match drinks.
Find the information for the rinks entrance arrangements here.
Manchester Storm's next home game is an special event, Armed Forces night, Saturday 27th October, 19:00 face-of against Belfast Giants. You can buy tickets HERE.
Treat your kids to the OSC's special spooky Halloween themed party with the team on Friday 26 October, at The Station Hotel via eventsstormosc@gmail.com. There will be games and scary chocolate making with our sponsor, Oliver's Chocolate Parties.