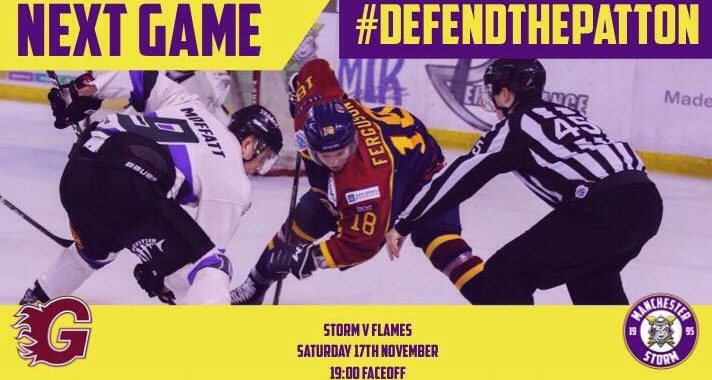 Latest News
Match Previews
WEEKEND PREVIEW: Storm to Meet Flames Twice this Weekend!
Tickets for Storm's upcoming game against Guildford Flames can be ordered online HERE, or by calling the box office on 0161 926 8782, or in person at the box office.
Last weekend your Go Goodwins, Manchester Storm faced Patton Conference rivals, MK Lightning at home for the second time this season. Despite having some players sitting out, Storm managed to come out victorious, taking the two points in regular time. It was a spectacular night for certain players, with MOTM, Brendan Brooks taking four points in assists, Evan Richardson claiming four points and defenceman, Ruopp scoring his first of the season. The game was exciting with a total of seven goals and 68 penalty minutes.
GUILDFORD FLAMES – SATURDAY 17TH NOVEMBER, 19:00 FACE-OFF, PLANET ICE ALTRINCHAM.
This weekend sees two more EIHL Patton Conference games, as the Storm face Guildford Flames in a double header, and continue their campaign to defend the Patton Conference trophy. Having only facing each other once this season so far, it's now Flames turn to visit the Storm Shelter.
Being the new guys in the league last season, alongside MK Lightning, Flames finished 5th in the league table and currently hold that same position, just under Cardiff Devils.
Head Coach, Paul Dixon acquired a few fresh faces to the EIHL in the Summer. Newcomers include Canadian defenceman – Jordan Abt, who joins from ECHL team, Norfolk Admirals, American forward – Evan Ritt and Canadian forward – T.J Foster.
New to the team but not the EIHL include the likes of netminder, Travis Fullerton, Swedish all-rounder Erik Lindhagen and Canadian forward, Kevin King.
After last month's game away in Guildford held numerous incidents, resulting in a total of five game suspensions for the Storm via DOPS, tonight's game is not one to be missed!
One to Watch: T.J Foster, 48 points in 45 games last season for Norwegian team, Frisk Asker.
GUILDFORD FLAMES – SUNDAY 18TH NOVEMBER, 18:00 FACE-OFF, GUILDFORD SPECTRUM.
This Sunday, the Storm travel down to face Flames for the third time this season, away at the Guildford Spectrum Centre.
MATCH NIGHT INFORMATION
Doors open Saturday 17th from 18:00pm
Face-off 19:00
 Altrincham's Christmas light switch on is today, so allow extra time to find available parking
SOTB – tonight you can win Harrison Ruopp's game worn 4 Nations jersey
Stick Raffle is Linsmayer
Ticket information can be found here
50/50 & "Chuck A Puck" can be bought from the OSC stall, underneath block 113, and from match night sellers based around the rink
Having to miss the game in person? The webcast can be bought HERE thanks to Storm TV for £10
There will be a post game skate! Free with own skates or £2.50 for skate hire
The Station Hotel, Storm's official pub, will be open to fans for pre-match drinks
Find the information for the rinks entrance arrangements here
A reminder that there will be no webcast for the away game in Guildford on Sunday 18th
The next home Storm game falls on Saturday 24th November, as last season's league and playoff winners – Cardiff Devils, visit the Storm Shelter for the first time this season! You can check out the Storm's fixtures here!
The club's OSC are hosting the Storm's Christmas Party, Tuesday 18th December at Cresta Court Hotel, 19:00 – late. Email events.stormosc@gmail.com to book, or visit the OSC desk under block 113 on match nights.