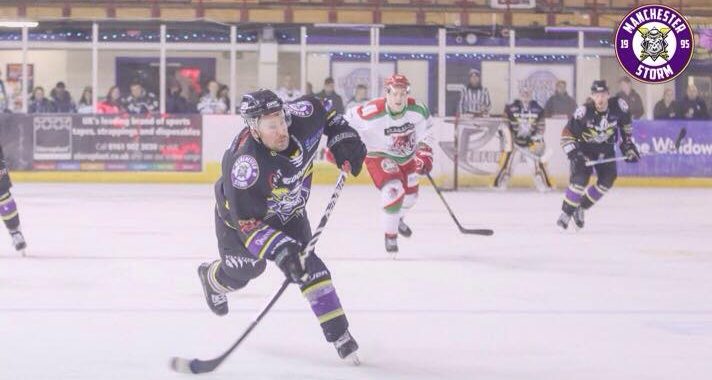 MATCH REPORT: Storm Home Point Streak continues!
Tickets for Storm's upcoming game against Fife Flyers can be ordered online HERE, or by calling the box office on 0161 926 8782, or in person at the box office.
Last season's EIHL and Playoff champions, The Cardiff Devils visited the Storm Shelter for the first time last night. It was a thrilling and close game of hockey, with both netminders taking only a one shot difference on goal, a total of nine goals and 34 penalty minutes.
It was a rapid first period with four goals in total. The first goal of the night came early, as Devils' Fornier put one past Ginn just 0:32 seconds into play with a shot from the blue line, the assists from Martin and Pope. It was just less than two minutes later at 3:06 when Storm equalised, Moffatt putting past Bowns on the near post, assisted by Ehrhardt and Hammond. Goal number two for the Devils came at 6:43, as Fornier shot the puck through traffic claiming his second goal of the evening, with the assist again from Martin. It was an unfortunate goal for Storm to concede, as Ginn was blocked from any view of said goal. If anything, it made Storm more motivated, as they applied pressure on breakouts and any turnovers, attempting to equalise.
It was ten minutes later that Storm got their chances, Hammond managing to equalise on a powerplay goal at 16:00, with assists from Moffatt and Poulin after Linglet was sent to the penalty box for slashing. Another powerplay opportunity for Storm came in the final few minutes of play, as Louis received a two minute penalty for slashing. Chances were denied and both teams would begin the second period on a tie.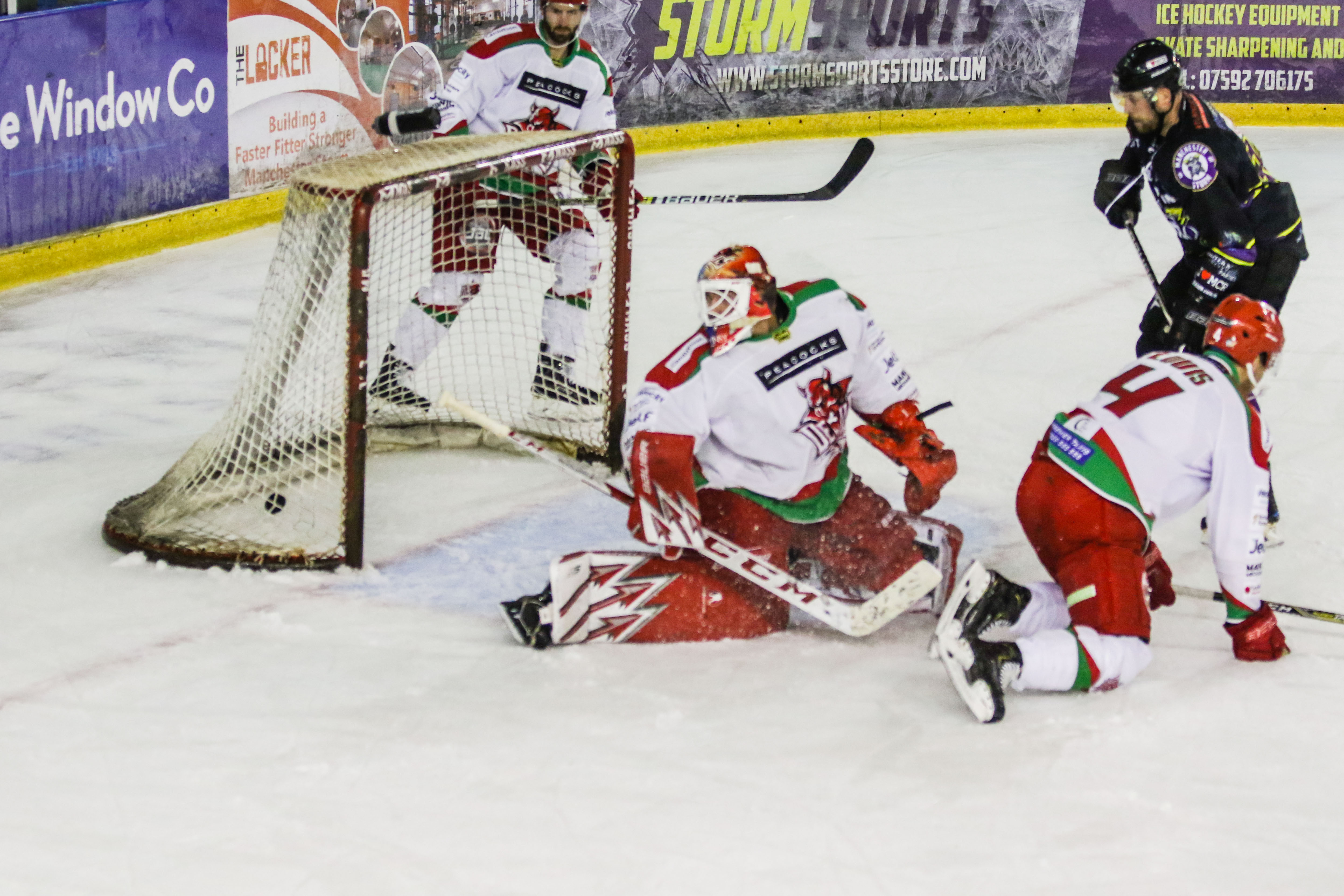 The Storm boys came back onto the ice looking ready to go. The majority of the second period flowed well, both teams back and forth hoping to take an advantage on the scoreline. The first penalty for Storm was given at 23:18, handed to Brooks for tripping. For almost the full two minutes Storm remained strong on the penalty kill. However, devils found their chances slotting their third goal on the powerplay, back post in final few seconds, scored by Reddick assisted by Hedden and Haddad at 25:16.
There were no more goals during the second period, but plenty of competitive hockey to witness. The only other penalties going to Poulin for slashing at 26:59 and Devils' Ulmer at 29:12 for holding and Faryna for interference at 36:22.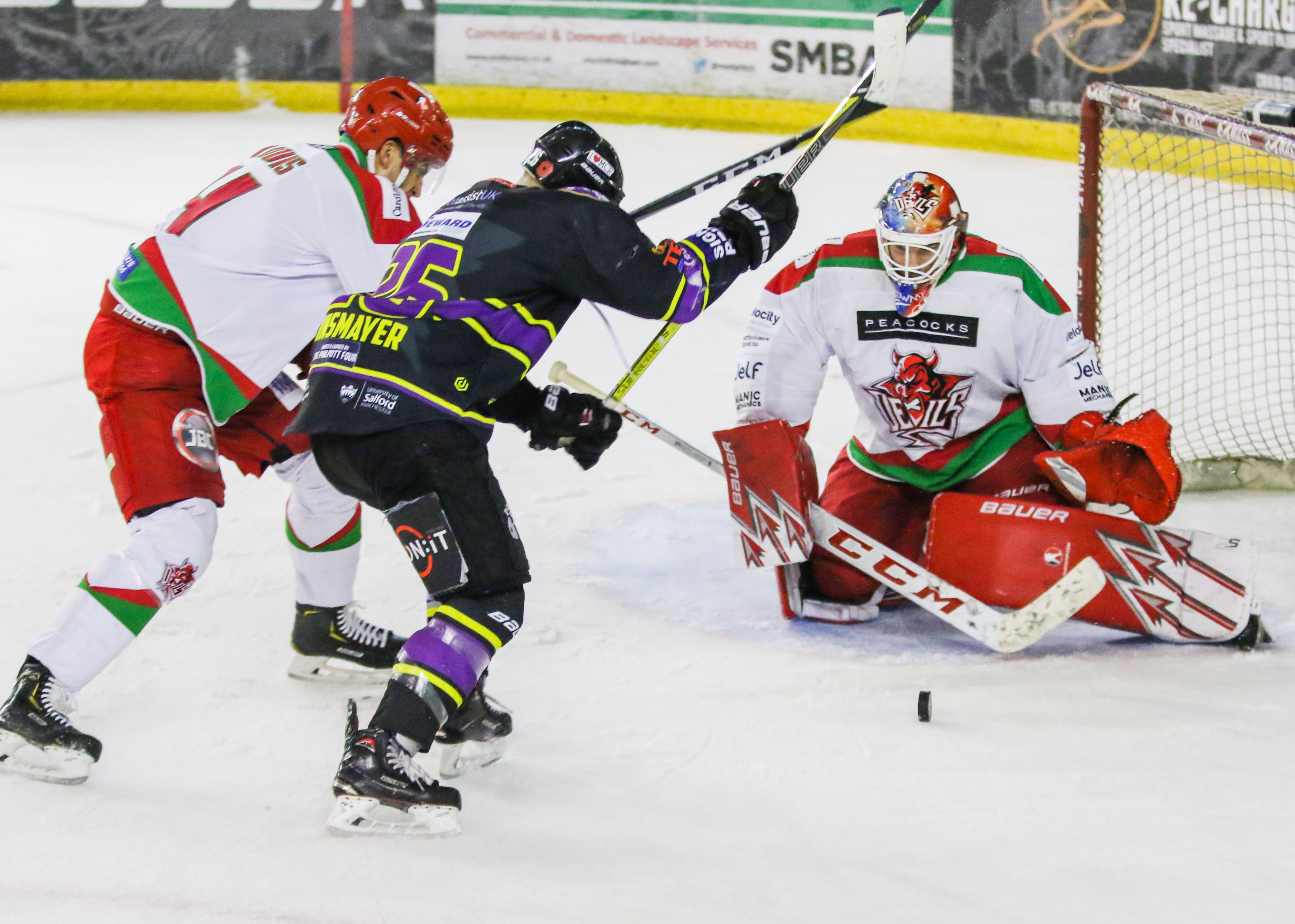 Things got a tad rougher in the final period, as Poulin was boarded, Dixon receiving a 2 + 10 penalty. Despite being hurt, it was Poulin who would then get an assist on the powerplay, as Hammond equalised putting the puck backdoor, Moffatt also claiming an assist at 42:09.
It was an evening of powerplay goals for Storm, as Louis of Devils recieved a two minute penalty for elbowing at 45:58. Storm took the the goal advantage – Long sending the puck home assisted by Byers and Hammond at 46:39.
At 47:31, Bakker recieved a two minute penalty for slashing, Storm managing to keep a level head whilst under pressure on the penalty kill. At 51:49, Auger took a penalty for hooking, followed one minute later by Linsmayer, for high-sticking at 52:56. Unfortunately this was Devils chance to equalise on a powerplay opportunity, Reddick scoring a top shelf goal, assisted by Haddad and Heddon at 53:35. The final penalty of the evening was handed to Linglet at 57:36 for unsportsmanlike conduct, Storm not managing to get a goal up in final few minutes of play – taking the game to overtime on a 4-4 tie.
Starting the overtime was Hammond, Moffatt and Poulin. There were chances of an early five-hole goal past Bowns, Devils also taking their chances to be gloved by Ginn. Overall, it was a tense but short overtime, as Devils found a gap in the net at 61:54, Schietstel scoring their winning goal on the rebound – assisted by Mosey and Martin.
Man of the Match for Devils: Ross Reddick
Man of the Match for Storm: Luke Moffatt
Shots on Goal: Ben Bowns – 34
Shots on Goal: Matt Ginn – 33
Referees: Chris Wells & Matt Thompson
Manchester Storm's next home game is against next Sunday 2nd December, against Fife Flyers, 5:30 face-off!
This upcoming Tuesday, 27th November is the inaugural Manchester Storm and Salford University Student Night event at Tiger Tiger Manchester! It's the perfect opportunity to socialise with friends and meet the players. Drink offers available, find more information HERE!