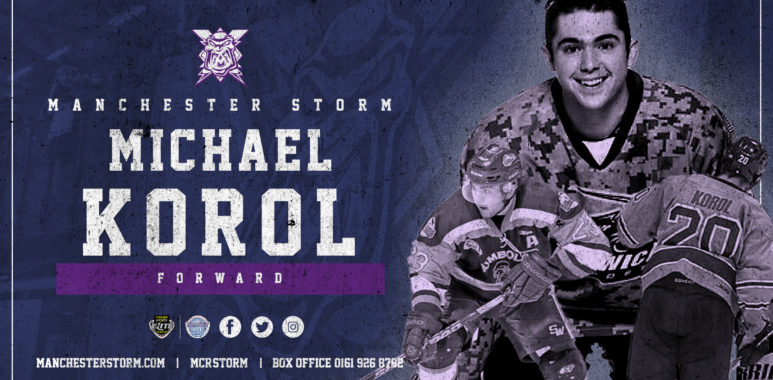 STORM SIGN KOROL TO FIRST PROFESSIONAL CONTRACT AHEAD OF NEW SEASON
Manchester Storm are delighted to announce the signing of Michael Korol, most recently of Watrous Winterhawks (LLHL).
Born in Kirkcaldy, Korol qualifies as a British skater and will be arriving in Manchester in early August ahead of the 2022/23 campaign. 
Korol made 160 SJHL appearances for Humboldt Broncos amassing 74 points (28G 46A) before heading to Norwich University in Vermont. 
The dual-national then spent four-years studying and plying his trade in the NCAA hockey system. Korol captained his side in the 2020-21 season on eight occasions before the pandemic interrupted his senior year. 
Last season, Korol skated 15 times for Watrous Winterhawks, in the Long Lake Hockey League, racking up 14 points (8G 6A) during his time with them. The 2022-23 Elite League season will be Korol's first in professional hockey and 25-year-old forward will be eager to make a big impression on the league – having taken a non-traditional route into the professional game. 
Head Coach, Matt Ginn, commented on his newest recruit:
"Michael is an excellent character and huge personality – that cannot wait to start his professional career here in Manchester. He is an extremely hard-working individual; he is going to be one of our energy guys within the line-up!
All the reports back on him have highlighted his team first approach and he is accustomed to leadership roles within the dressing room – with previous captaincy experience. I am really excited to have him onboard and add to our promising group of young British players."