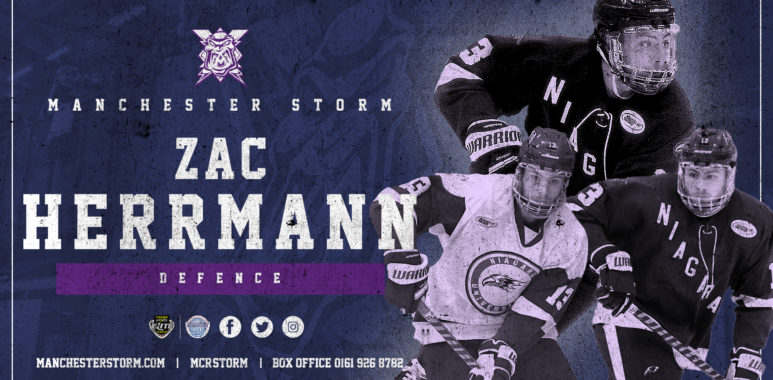 STORM RECRUIT FORMER CYCLONE TO BOLSTER DEFENCE
Manchester Storm are thrilled to announce the signing of blueliner Zac Herrmann, most recently of Cincinnati Cyclones (ECHL). 
The New York state native made an impressive start to his junior career with Burlington Cougar (OJHL) accruing 43 points (9G 34A) in just 52 points.
From 2016-2018, Herrmann split his time between Omaha Lancers (USHL) and Odessa Jackalopes (NAHL) totalling 113 appearances and 56 points (12G 44A) before heading to Niagara University.
The defencemen went on to make 111 NCAA appearances, during which he amassed 31 points (7G 24A). During his four-year tenure at Niagara University, Herrmann was named to the NCAA All-Academic Team of the Year during the 2018-19 season. 
Upon the conclusion of his studies, Herrmann ventured into the world of professional hockey for the first time– representing Cincinnati Cyclones in twelve league and four play-off games.
Head Coach, Matt Ginn, had this to say about his latest addition to the blueline:
"Zac is a speedy skater – that can move the puck around the ice with relative ease. I am confident he will be able to contribute at both ends of the ice and make some really big plays. 
Having watched plenty of his previous games – you can see his breakout passes consistently hitting the mark and his willingness to jump in with the rush. I will be expecting him to log big minutes throughout the season and his style will really suit the Storm Shelter. I feel like we have a real fans favourite in the making."