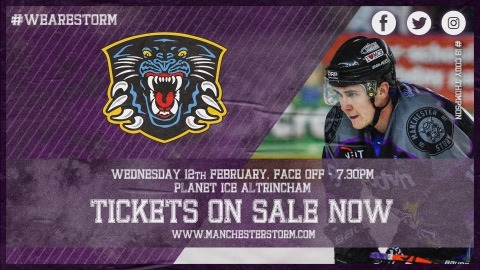 Latest News
Match Previews
Match Preview: Storm to face Panthers in midweek action!
We face visitors, The Nottingham Panthers this Wednesday in mid-week EIHL action at the Storm Shelter. Get tickets here, or by calling the Box Office on 0161 926 8782. Face-off is at 19:30.
There will be NO home games this weekend 14-16th February, as your Goodwin Group Manchester Storm fly to Belfast on Saturday to face the Giants.
Last Sunday's thrilling comeback game against Fife Flyers saw plenty of action. There were some milestones for Storm's new players. Newly signed, Ivan Sijan claimed primary assist on Fawcett's goal, taking his first point in Storm colours.
Forward, Frankie Melton also claimed three points on Sunday, helping his teammates crawl back into the game, with the first goal, an assist AND the game winning penalty shot.
Manchester Storm v Nottingham Panthers – Wednesday 12th February 2020 – Planet Ice Altrincham –  F/O 19:30 (doors open 18:30)
Every point from now until final game in March against Sheffield Steelers counts towards April's Playoffs, and we need Storm fans to pack the shelter, wear the colours and continue to support the club.
The club has recently brought in three new players, to show our fans how much we want to stay in the top eight.
As a club, we believe we have the potential to reach 7th place in the table. The Storm currently sit just two points behind Clan, and we still have two games against them this season!
Dundee Stars are also playing catchup to the Storm, aiming for 8th position and a playoff spot.
Visiting side, Nottingham Panthers recently acquired Canadian forward, Mathieu Tousignant, who joins the team from DVTK Jegesmedvék in the Slovakian league.
Expect a highly competitive mid-week game against the Panthers – who will be looking for a late comeback regarding final league positions.
Read about the league's final games of the season here.
TEAM NEWS
Captain, Dallas Ehrhardt will be back in the Storm's lineup, following his time with Team Great Britain last week, as they competed in the IIHF Olympic Qualifiers.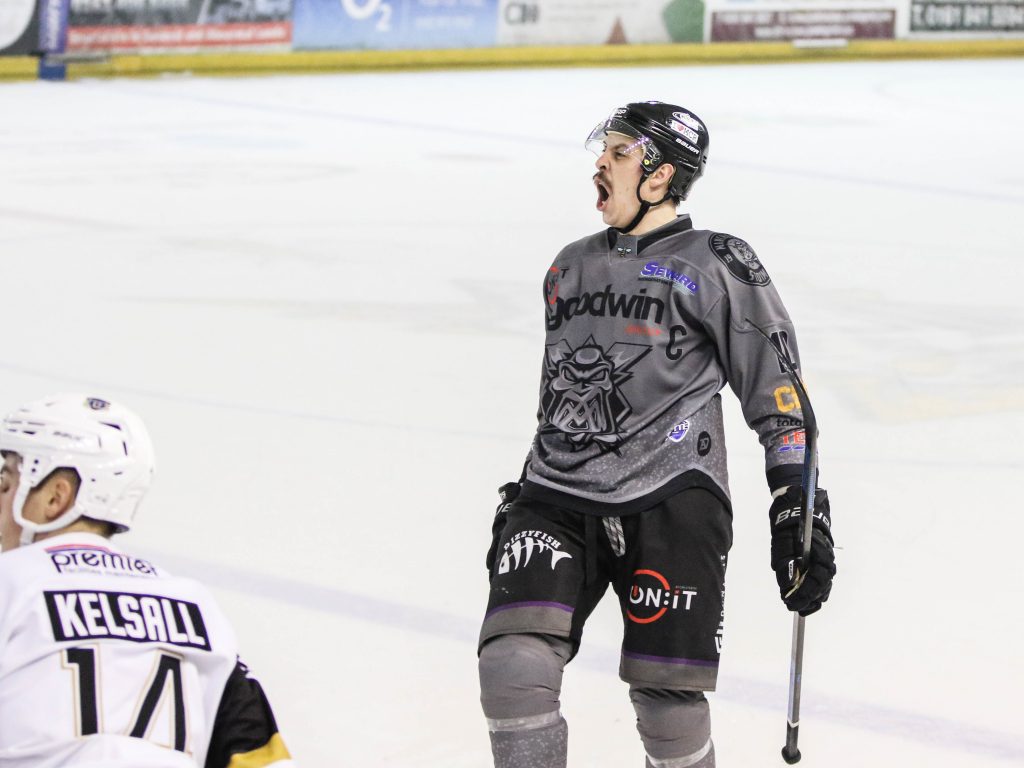 MATCH NIGHT INFORMATION
Doors open Wednesday 12th February at 18:30PM
Ticket information for games can be found here
Storm Sports Store have plenty of new Pink the Rink merchandise for you to check out, visit in store or their website here
Match night raffle tickets can be purchased by match night volunteers around the rink and from the OSC – who are located under block 113
Visit  the OSC stall to purchase 50/50 and Shirt off the Back tickets, also enter the match night "Chuck A Puck" competition or sign up to the Supporters Club for the season
If you can't make the game, Storm TV have you covered with a webcast here
If you're looking at group bookings for the remaining games this season, contact liam@storm-office.com for more information
Following this Wednesday, the Storm are back on home ice on Saturday 22nd February, for a face-off time of 19:00 against Belfast Giants. Get tickets here, or by calling the Box Office on 0161 926 8782.