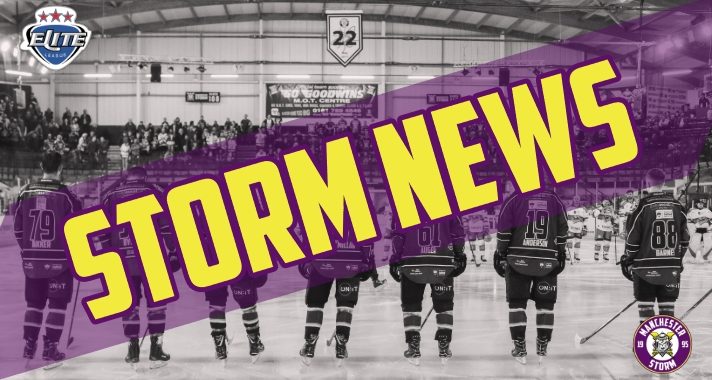 STORM OPEN PRACTICE: THIS SATURDAY!
Your Go Goodwins sponsored Manchester Storm are to hold a special 'open practice' THIS Saturday ahead of their big #PlayoffPush match in Dundee on Sunday!
All fans are invited down to spectate & watch Head Coach, Ryan Finnerty put the team through their paces ahead of Sunday's game. Sure to be an interesting insight into how the players & coaching staff prepare for an Elite Ice Hockey League match up & this event, is of course, free & open to the public!
The Storm open practice will run from 16:15 – 17:45 & shortly after at 18:00 our very own Manchester Storm Juniors will take to the ice as the Academy u18's take on local rivals, Sheffield! Come & watch your Go Goodwins Manchester Storm practice and then watch the next generation of talent play free of charge.
Manchester Storm Training: 16:15 – 17:45
Manchester Storm Academy u18's vs Sheffield: 18:00 onwards 
The Box Office will be open for anyone looking to purchase tickets for any of our THREE remaining home games this season & the Storm Sports Store will also be open as the players take to the ice. The Planet Ice cafe will be open serving hot & cold beverages and food on the day also!
Tickets for our 3 remaining home games can be purchased online or by calling the Planet Ice Box Office on 0161-926-8782! #WeAreStorm | #ATTWWY