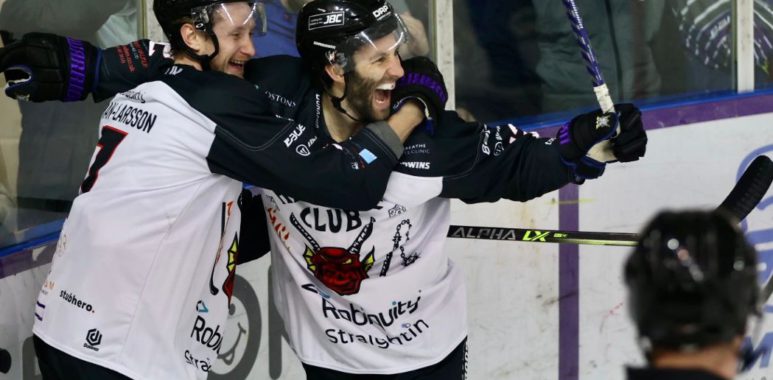 STORM NARROWLY LOSE OUT TO FLYERS IN 11 GOAL GAME
The Storm got off to the perfect start on Sunday evening after piling the pressure on the Flyers early in the first – Johnson finding the back of the net unassisted.
The Flyers tied things up through Sandstrom when a series of rebounded shots finally found a way past Lavigne. Laakkonen put the Flyers a goal up beating Lavigne with a clever deke, on a breakaway, early in the second period.
Johnson restored parity moments later, crashing the net and placing the puck past Owen on his back hand. Barrow added another firing one home at the back post, assisted by Simmonds. The Flyers called a time out immediately after Johnson completed his hattrick with a well worked team goal to put the Storm up by two.
A controversial goal stood for the Flyers, when Phillips fired in to an empty net whilst Lavigne was recovering from being knocked out of his goal crease. A short handed effort from Johansson levelled the game for Fife within the first four minutes of the third period.
Bricknell again put the Storm ahead with a tap in at the back door only for the Flyers to equalise just 30 seconds later. Phillips added another for the Flyers to set up a thrilling end to the game in which Lavigne was pulled in an attempt to draw level. Unfortunately the goal never came despite their best efforts.