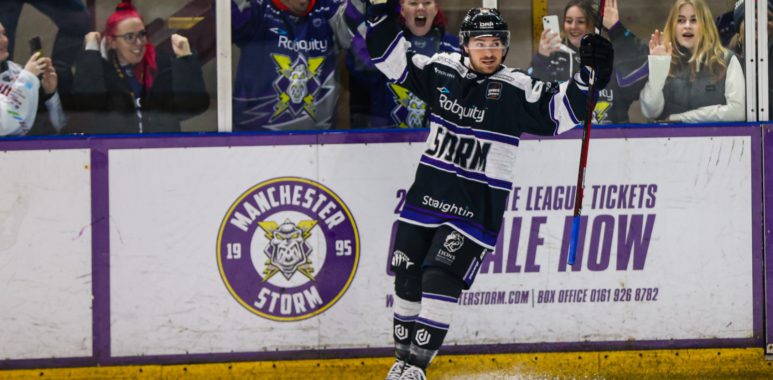 STORM NARROWLY LOSE OUT TO BLAZE AFTER LATE GOAL
The Coventry Blaze were the visitors on Friday night in Altrincham. The penultimate home game of the regular season saw Swedish forward Jesper Öhrvall make a welcome return to action, after a long lay off through injury.
A cagey yet back and forth opening period provided very few goal scoring chances at either end of the ice. The Blaze did have an opportunity on the first powerplay of the evening late in the period but failed to make it count. The scoreboard remained blank heading in to the first intermission with the Blaze slightly ahead with shots on goal.
The Storm had some time on the powerplay themselves early in the second, Ohrvall creating some good looks on net for the specials team. An emphatic finish from the hash marks by DeLuca finally opened the scoring in the Shelter. A perfect tape to tape pass by Herrmann setting up the Storm's top point scorer. The Blaze quickly tied things up just seven seconds later when Tallberg beat Brodeur at his near post after a dash up the wing.
The chances kept on coming for the Storm as both Fawcett and DeLuca forced Hölsä in to smart saves. The home team doubled their advantage through Barrow who scored at the back post drawing the netminder out of position with a delayed shot. No further scoring set up an exciting final third with just the one goal separating both sides. The Blaze equalised early in the final period in a carbon copy of their first marker. Cook with the finish on this occasion. Moments later the away team went up by one after Yellow Horn one timed a shot past Brodeur – a cross crease pass from Frantti saw Brodeur scrambling to try and cover his back post.
The Storm responded well with a solid forecheck creating chances. The hard work payed dividends when DeLuca blasted a shot past Hölsä on the powerplay to level the game at three all. The momentum was definitely in the Storm's favour at this point. It was the Blaze however who got the next goal to put them up by one with less than a minute to play.
A time out followed with Ginn electing to pull Brodeur for the extra attacker. The seconds ticked on with the Storm unable to find the tieing goal meaning the Blaze took a hard fought 4-3 win.