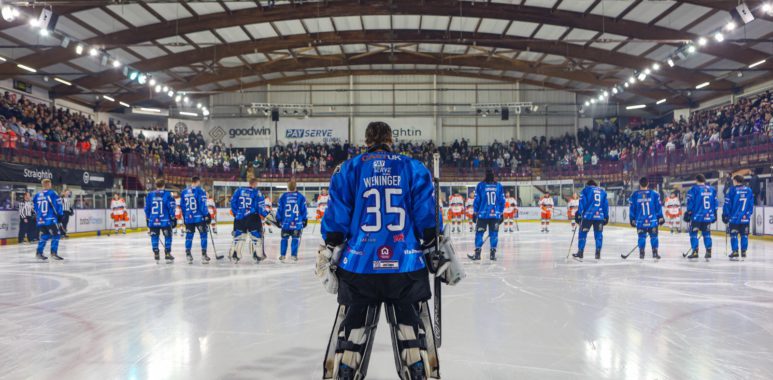 STORM NARROWLY LOSE OUT IN-FRONT OF SOLD OUT CROWD
A SOLD OUT 'Storm Shelter' saw rivals Sheffield Steelers walk out 6-3 winners despite a valiant comeback effort from Head Coach Matt Ginns' squad.
The Steelers would find themselves on an early powerplay as Johnson sat a two minute tripping minor for the Storm.
A tic-tac-toe play by the Steelers specials team set up an unimpeded shot from the hash marks by Tansey who beat Weninger glove side with a fierce one timer. Despite short flurries of offensive pressure the Storm were pinned down for large portions of the opening plays. The Storm themselves had some good looks on the powerplay forcing Morrone to make some important stops for the visitors to maintain their one goal advantage.
A relatively tame opening period, considering the bitter rivalry, came to a close with the Steelers slightly ahead on the shot clock. The Steelers doubled their lead within the first ninety seconds of the second period when Nicholls and Watling broke down the ice with the former finding the back of the net on a two v one play. The Storm hit back with another strong powerplay opportunity but missed out on the chance to reduce the deficit. A five minute penalty called on Ulett for a huge hit against the boards lead to the Steelers third goal – a strong shot from the point by Saucerman beat Weninger down low despite the netminder getting a big touch on the rubber. Ex NHL defenceman Joe Morrow finally got the Storm on the scoreboard with a rocket of a shot which flew by the Steelers defence during their 2 man penalty kill.
The Shelter erupted, moments later, when Corneil made it a one goal game, finishing nicely from close range, assisted by Haarala and Murphy. A busy second period ended with the Steelers just about hanging on to their one goal lead. The come back was completed early on in the third when Hinam displayed some nifty stick handling to beat Morrone around his crease and slot the puck home at the far post.  A defensive lapse during another powerplay for the Storm resulted in the Steelers regaining the lead through Vallerand, who beat Weninger on the breakaway. A big final five minutes was needed to swing the momentum back in Storms favour.
Unfortunately for the home team it was Simpson who put the visitors up by two late on. A time out was called by head coach Matt Ginn and Weninger was pulled in favour of the extra forward. Unable to maintain possession of the puck, Vallerand sealed the win with an empty net goal to send the Steelers home with two big Challange Cup points.