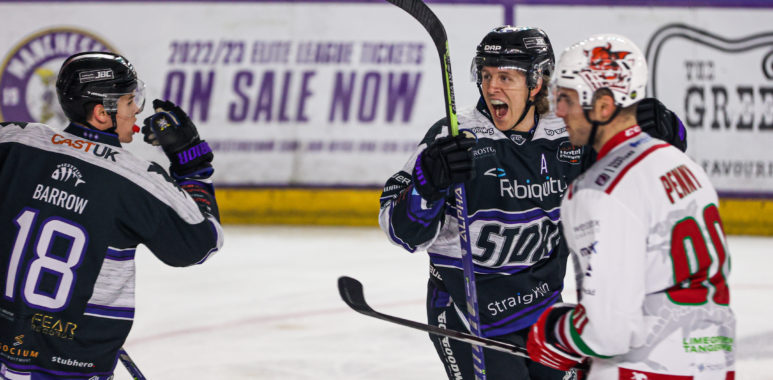 STORM LOSE OUT TO TITLE CHALLENGERS CARDIFF
The Cardiff Devils were the visitors at the Storm Shelter on Sunday evening. The Storm were looking for a four point weekend after their road win last night against the Clan.
The Storm had the better chances in the opening exchanges, DeLuca found him self one on one against Bowns in the Devil's net but couldn't quite convert the opportunity. A shot from the point by Herrmann was tipped in by Simmonds in front of goal to put the Storm up by one.
The Devils replied when Sanford beat a sprawling Brodeur at the back post after a smart pass across the crease. Martin then put the Devils in to the lead with two minutes remaining in the period after a shot from the hash marks beat Brodeur at the near post.
Tempers flared not long after when Louis jumped Simmonds resulting in the Storm gaining a full five minute powerplay and the defence man being ejected from the game. A back and forth start to the second was punctuated by Martin's second goal of the game to put the Devils up by two. A well worked powerplay goal which saw the Storm penalty kill being worn down and beaten late on. Crawford added another three minutes later with a close range shot resulting from a good passing build up by the Devils.
There would be no further scoring in a largely uneventful period which ended with the Devils taking a three goal advantage heading into the final third. Ehrhardt came close to cutting the deficit early in the third, driving to the net and forcing Bowns in to a good save down low. Despte a powerplay each and some half chances no further goals were scored in the period.
Unfortunately that meant that the Devils took the two points back down to South Wales. DeLuca picked up the home man of the match award with a tireless performance.