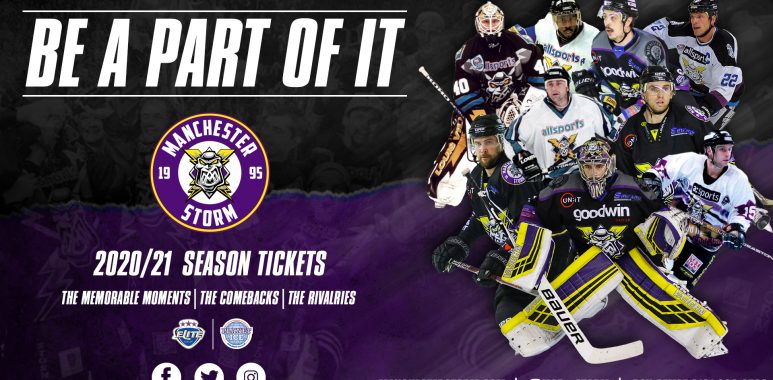 SEASON TICKET INFORMATION: 2020/21 ELITE LEAGUE SEASON!
Your Goodwin Group Manchester Storm launch season ticket information for 2020/21 Elite League campaign!
The theme for this seasons launch is "Be Part Of It". We want YOU to be part of every memorable moment, every win, every goal and every celebration during the 20/21 season at the Storm Shelter.
On our 2020/21 Season Ticket artwork, you may recognise some old faces, as this is the 25th year since Manchester Storm were originally founded. We wanted to tip our hats to the history of the club, whilst moving forward and creating our own history together.
All EIHL regular season games will be included and as a bonus there will be 3 out of the 4 Challenge Cup games also included. This Means 30 Action Packed games at the Storm Shelter and the early bird price will run until the end of May 2020! Also, first and/or full payments will be taken at a date decided after the next board meeting (provisionally June 1st onward) so you can secure your seat now and pay later.
Expect action packed nights at the Storm Shelter once again during the 20/21 season and even more themed nights, such as our first ever 'Star Wars' Night, which was certainly one of the highlights of the past year.
With the purchase of your season ticket, you will also receive special offers, discounts and promotions from the club's sponsors. Keep your eyes on our website and social media, over the coming months, as we look to announce a variety of local business' we will be working with.
The 2020/21 Season Ticket is now open to everyone. However, current Season Ticket holders will have until the end of April to reserve their current seat for next season. Following this deadline, the seats will then be open for general sale.
You can view our seating plan and what seats are available below (click to enlarge)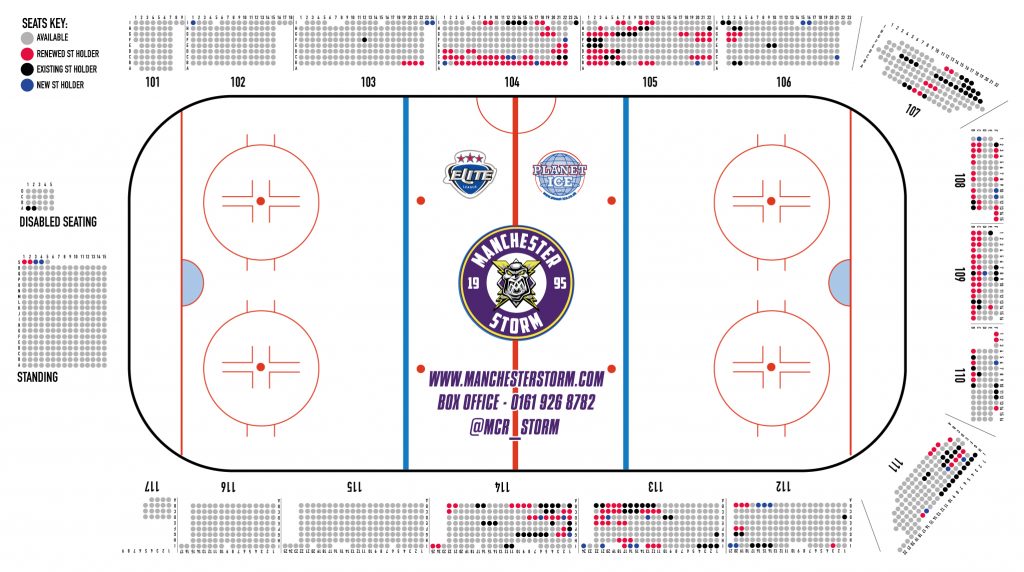 To apply for 2020/21 season tickets, download the application form here; Application Form  and fill it in. You can save and send them back via email to seasontickets@storm-office.com.
Unfortunately, due to recent COVID-19 news, Storm Sports Store is temporarily closed. This means we are for now, unable to receive any applications via our usual post box in Storm Sports or via post to the rink.
Jamie Tunstall, Managing Director of Manchester Storm commented;
"We have taken the feedback from our current season ticket holders and also potential new season ticket holders and decided to add some of the Challenge Cup games to the season ticket for the coming season. We can't stress how important this launch is, but more importantly the take up of season tickets from all fans. There is no hiding it's a very tough time for us financially at the minute like most clubs, so launching the season now will give us a clear indication of where we stand over the coming months financially. May I thank you all for the support over the last few weeks . "
Head Coach and General Manager, Ryan Finnerty added:
"We are now realising the impact Covid-19 has had and will continue to have on our program. I really can't stress how important this season ticket drive will be for the future of our club. I know it's a tough time for everyone right now but I strongly urge you to come back and encourage others to become a season ticket holder next season. Thank-you all for your continued support!"
Despite this season coming to an abrupt halt, Storm's Head Coach, Ryan Finnerty is already well underway working on plans for the 2020/21 season. Keep your eyes on the club's official website and social media channels over the coming weeks for more announcements!
Head of Sponsorship & Marketing, Liam Hesketh commented;
"We we're devastated when we got the call to say the league was being wrapped up early due to the Covid-19 pandemic, although very understandable as the health of the players, fans and staff is paramount. There certainly feels as though there's some 'unfinished business'. There was a real feel-good factor heading into the final fixtures as we looked to secure a playoff spot, the crowds were fantastic and you all took the atmosphere to the next level. It was an exciting time for the club and we hope to carry that on into the 20/21 season and we want YOU to be a part of the ride". 
Our 2020/21 Season Ticket application form, terms & conditions and the payment options are all available to download below!
Early Bird Prices;
Adults @ £465
Concessions @ £315
Children @ £215
Full Prices;
Adults @ £510
Concessions @ £360
Children @ £240
If you have any questions or would like help during the application process, please do not hesitate to get in touch at seasontickets@storm-office.com