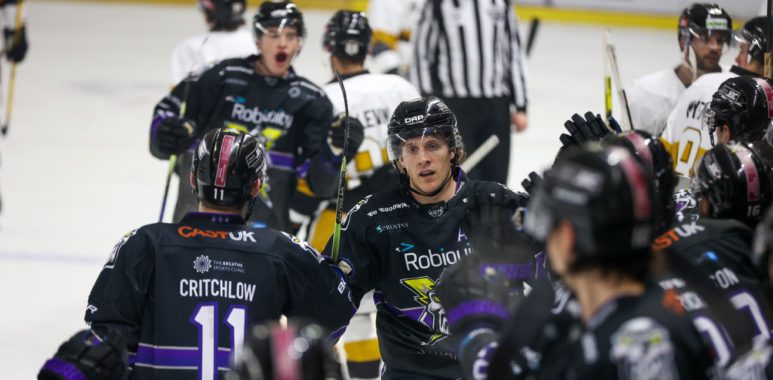 STORM IMPRESS IN THRILLING 7-1 WIN AT HOME!
The Storm welcomed the Nottingham Panthers to the Shelter on Saturday afternoon on the back of two outstanding wins in Belfast last weekend. Corey Neilson's Panthers side are still searching for some consistency from his surprisingly underperforming team.
It would take almost a full 20 minutes for the first goal to materialise in a largely uneventful period. It was Simmonds who broke the deadlock on a short handed play. Barrow found a passing lane down the middle to set Simmonds up on a breakaway which he slotted past Berry down low. Barrow made it 2-0 to the Storm within the first minute of the restart with a stylish marker in-front of the Panthers net – Impressively assisted by Ohrvall's spinning pass.
Brodeur pulled off some impressive saves at the mid point of the period to maintain Storm's lead when the Panthers piled on the pressure during a powerplay opportunity. Simmonds added a third for the Storm with an accurate wrist shot from the slot after a pass from Ohrvall found the forward with time and space in front of Berry. The Srorm headed in to the second break with a healthy three goal lead. Barrow scored his second goal of the game to stretch out Storm's lead with a powerplay effort assisted by Ohrvall and DeLuca. Storm made it five when Fawcett found Ehrhardt with a well placed pass to the back post who fired past Berry.
The Panthers finnaly found a way to beat Brodeur not long after when Welychka scored on the powerplay whilst Simmonds sat for a two minute interference penalty. Ehrhardt completed his double whilst the Panthers were killing a 5 on 3 powerplay, Johnson with the final pass after a good team build up.
A final goal followed for the Storm this time scored by Korol and assisted by Barrow's fith point of the evening. A dominating display earned the Storm their 7-1 win and ensured the points stayed in Manchester.