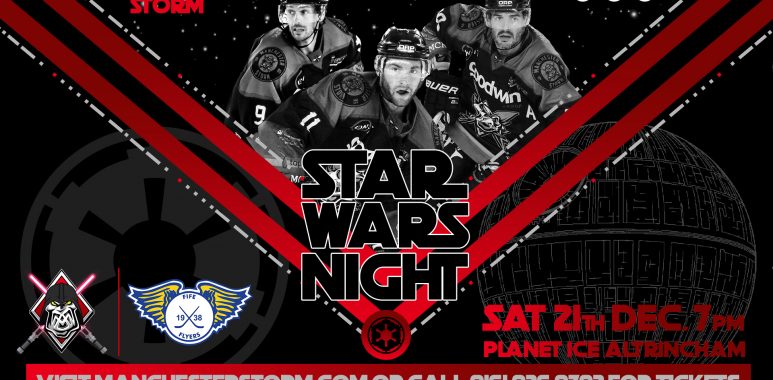 STAR WARS NIGHT: STORM 2-3 FLYERS (OVERTIME)
Your Goodwin Group Manchester Storm donned their Star Wars special jersey for a closely contested encounter with Fife Flyers.
The visitors eventually ran out winners in overtime, 3-2. It was the Flyers who first took the lead through a neat tic-tac-toe play from Quaile and the Crowder brothers, with the latter finishing of the move. The visitors extended their lead with the Crowder brothers combining again at 19:08. Despite the scoreline heading into the first intermission, the hosts were unlucky to trail by two goals.
The Storm managed to force their way back into the game at 33:15, as a deserved goal for the hosts came from Thompson, with assists going to Fawcett and Gagnon. This 2-1 scoreline in favour of Fife remained until the end of the period, despite multiple good shots put on goal by the Storm.
It appeared as though the two points would be travelling back up North to the Kingdom of Fife until "Big Game," Layne Ulmer pounced on a loose puck in the slot. Ulmer's game-levelling goal, with just 4 seconds remaining, sent the game into overtime.
However, the Scottish team were not to be denied the victory, as Carlo Finucci finished the game with a game winning goal in overtime.
Man of the Match: Jared Aulin (Storm) & Paul Crowder (Flyers)
Your Goodwin Group Manchester Storm are back on home ice Saturday 28th December for our #Christmas fixture against Sheffield Steelers! Tickets for this fixture are selling fast so please secure your tickets early to avoid disappointment. Tickets are available to buy online, by calling 0161-926-8782 or in person at the Planet Ice Box Office.
#WeAreStorm | #StarWarsNight