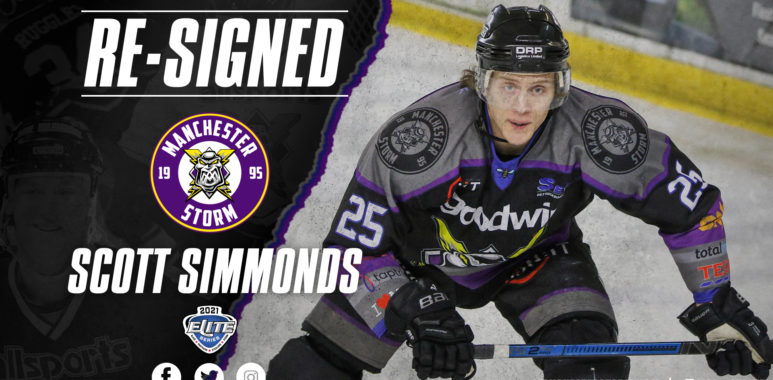 BREAKING: Simmonds signs up for Elite Series!
Manchester Storm are thrilled to announce the return of Scott Simmonds to the club for the #2021EliteSeries
The Canadian forward joins the Storm following his debut in the 2019/20 EIHL season and had also signed to play for the club during the 2020/21 season that was sadly cancelled due to the global pandemic.
Originally brought in by Head Coach, Ryan Finnerty alongside University teammate Cody Thompson, Simmonds was impressive during his first professional season, making a huge impact both on and off the ice. During his debut, the rookie scored 22 points in 49 games.
Prior to coming to the UK, the Ontario born forward played five seasons with the University of Guelph Gryphons. During that period, Simmonds totalled an impressive 95 points, including 60 assists. By the end of the 2018/19 season he was the leading scorer and was the first pick for the OUA West All-Star Team.
Previous teams for the Ontario born forward include: OHL side, Belleville Bulls, Wellington Dukes (CCHL) and Central Ontario Wolv. Entering his fourth season with the Belleville Bulls, Simmonds was named alternate captain, icing 245 games with the team.
The left-handed forward also claimed a Bronze Medal when representing Canada in 2016/17 in the Universiade – the international event organised by the International University Sports Federation.
Simmonds is excited to be returning to the club, and getting some valuable ice time commenting: "It's a pleasure to put the Manchester Storm jersey on once again! Although no fans in the arena, we know Storm fans will be with us, we've all seen the love on social media so far. I'm looking forward to joining up with my teammates in what will be an exciting series."


Head Coach, Ryan Finnerty, had this to say about retaining Scott for the Elite Series:
"If you look at the best sides in the EIHL, they build a roster around their core players. Scott for us, is definitely one of those guys and off-ice he is an absolute professional.

I know the fans loved watched Scott play, he just has this boundless energy and is great on the penalty kill and face-off dot.
I am delighted to have the opportunity to coach him again and I know he has been keeping extremely fit during this extended lay-over."
Find out more about Scott on Elite Prospects (Link https://www.eliteprospects.com/player/76875/scott-simmonds)
You can also sponsor Scott Simmonds' kit for the #2021EliteSeries by clicking HERE – You're name will be placed on the sponsorship grid, here on our official website and you will also receive a signed photograph of Scott which will be sent out in the first week of the series.
Player Profile
Position: Forward (C)
Age: 27
Shoots: Left
Height: 6'1"
Weight: 196lbs
Manchester Storm face Coventry Blaze in the first game of the 2021 Elite Series on Saturday 3rd April at 14:00pm.