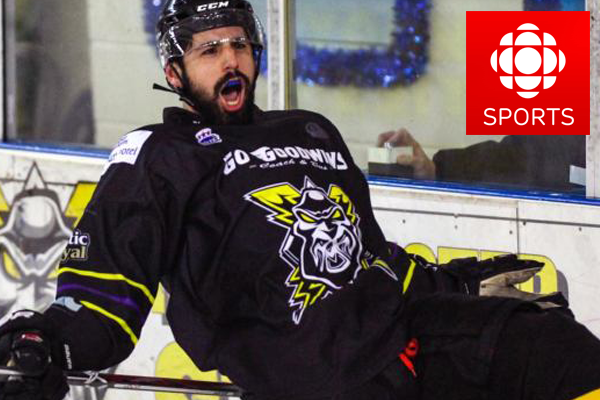 Radio Canada interview Coach Pacha!
Saturday, February 11th. All the spotlights are directed towards José Mourinho's team, as Manchester United take on Watford FC at Old Trafford. Meanwhile, the professional ice hockey team of Manchester is preparing for its game later that evening, guided by a Quebecer determined to spread hockey in a country, where football is a religion.
Like many young Quebeckers, Omar Pacha imagined himself playing in the National Hockey League (NHL). He climbed through the ranks playing junior hockey in Boucherville, before wearing the colors of the College Charles-Lemoyne "Riverains", in the Midget AAA. His dream of playing in the NHL, however, took a dramatic turn.
"I broke my femur in a car crash when I was 17," he says. "I missed a full year of hockey. I went back to playing junior AAA hockey, but from that point on, I knew I would never reach the National Hockey League."
My goal has always been to pursue as long as possible in hockey, but I wanted to make sure I had a plan B. – Coach Pacha
After two years in Quebec junior hockey, Pacha made his way to the University of Castleton, Vermont. He studied for a bachelor's degree in marketing, whilst playing in the NCAA. From Alabama, to Chamonix, France, via Bloomington in Illinois, the defender was ready for anything to pursue his career as a hockey player.
Plan B in England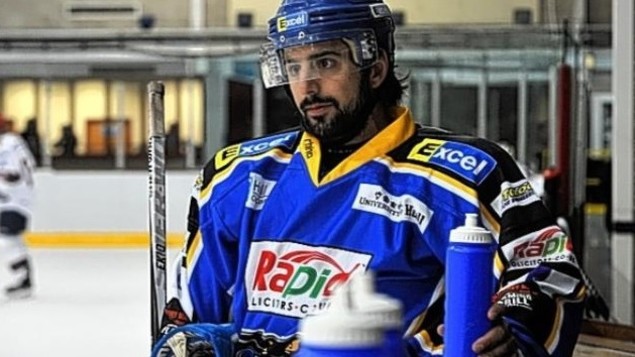 The wind then turned for the Quebecois. After collecting 30 points in 26 games in Chamonix, it attracted the interest of several major European teams. Why then did he choose a city where David Beckham is much more popular than Wayne Gretzky?
"I received offers to go to stronger and more renowned leagues like Germany or Austria, but the best opportunity for me was in the Elite Ice Hockey League (EIHL). I had an offer to go to the UK and they gave me the chance to do my masters at the same time. They provided me with a full scholarship, in addition to my player salary," Pacha explains.
The Quebecker began playing in Hull, where he obtained his MBA. He was already starting to think about his C plan. After the NHL dream and playing career in Europe, he talked about the possibility with his bosses to hold an administrative position on the team.
"In my second year, the owner asked me if I wanted to become the player-coach of the team. I saw a great opportunity to continue to live my dream of playing hockey, while at the same time touching on the coaching profession, which is what I want to do next, "he said.
To play the role of director of hockey operations, to be part of the negotiations and to manage a budget were also elements that stimulated me a lot. – Coach Pacha
When Hull ceased operations in 2015, Omar Pacha turned to Manchester, a city which had not had a top-flight team since 2002, but has a place in the history of hockey in the UK.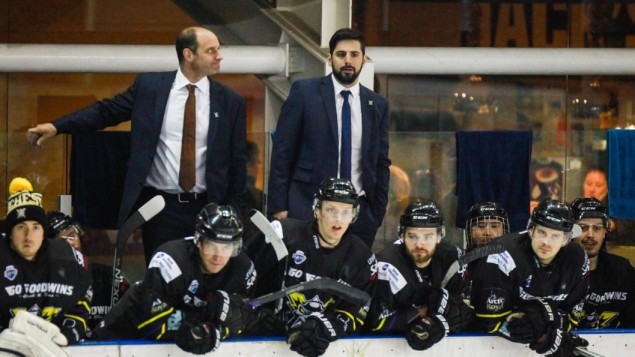 Pacha faced a daunting challenge. In less than six weeks, he helped to create an entire organisation from top to bottom, and brought back the Manchester Storm. Since then, the Quebecker has simultaneously fulfilled three roles: Player, Head Coach, and Director of Hockey Operations.
The hard work paid off, as in its second year of existence only, the Storm managed to qualify for the playoffs.
The East Coast League, the American League or the EIHL?
The biggest difficulty Pacha faces as a manager, is to succeed in convincing good players to sign a contract with the Manchester Storm.
The big advantage for players to come here is that the teams offer the opportunity to complete a master's degree while playing hockey and being paid to do so. We pay for the house, the car, we pay for their trips, for their credit cards. Salaries may not be as high, but there are several other benefits. – Coach Pacha
Despite playing in a city where Manchester United and Manchester City are both "top dog", and where the weather is always rainy, Omar Pacha's organization is doing well.
It must be said that the quality of life weighs in the balance when the players choose the EIHL. Salaries range from $ 17,000 to $ 65,000, with seasons ranging from 55 to 60 games and teams playing only two games per week.
"There are several former players from the National Hockey League, the American League, or from big leagues in Europe, who choose to play here to finish their careers. It is a beautiful country, but they see the opportunity also to do their Master" he says.
Our longest bus trip lasts six hours and as far as we go, it takes us 45 minutes by plane. Those who have families really appreciate this aspect. They can return home that evening. – Coach Pacha
A promising future
Omar Pacha now sees himself more as a coach than a player. He is very proud of what he has accomplished so far in Manchester, but does not hide his great personal ambitions.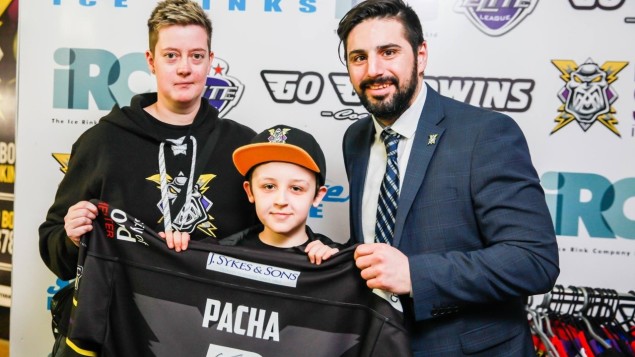 "I'd like to see how far I can go as a coach. My ultimate goal is to be at the helm of a team in the NHL, but otherwise it can be a team in the American League, KHL, or elsewhere in Europe. "He says.
Each summer, Pacha returns to his home in Quebec and takes the opportunity to share his experience with young hockey players. He tells them never to let go of their dreams;
It's not just the NHL. There are plenty of leagues in Europe and around the world where you can make a good salary. If you do not reach the NHL, it's not the end of the world. You can still live your dream. – Coach Pacha
Interview by Christine Roger of Radio-Canada (CBC) – you can find the original article, which is in French, HERE!