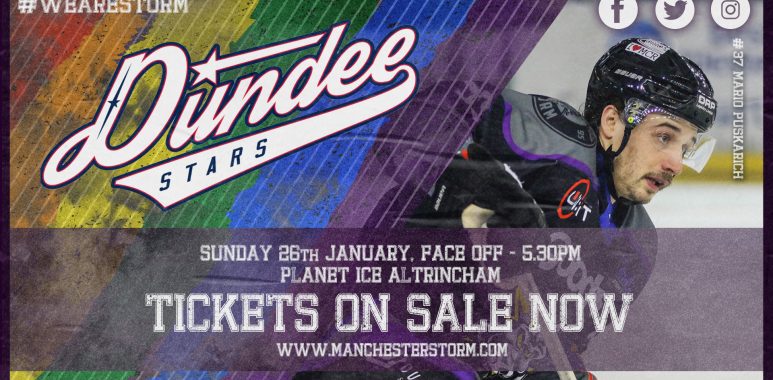 MATCH PREVIEW: Storm to host You Can Play game against Dundee!
We face visitors, Dundee Stars this Sunday in EIHL action in the Storm Shelter. Get tickets here, or by calling the Box Office on 0161 926 8782. Face-off is at 19:00.
Following two recent wins against Fife Flyers, the Storm look to keep up their point streak against Sheffield Steelers and Dundee Stars this weekend.
Manchester Storm v Dundee Stars – Sunday 26th January 2020 – Planet Ice Altrincham –  F/O 17:30 (doors open 16:30)
Join us in the Storm Shelter THIS Sunday, as we face visitors the Dundee Stars in EIHL action. There aren't many home games remaining of the 2019/20 season so bring your friends and family and help make the remaining games count.
This weekends games are crucial on the run up to the playoff push, and the Storm will be pushing for a four point weekend – also playing on the road in Sheffield Saturday 25th.
Manchester Storm will be welcoming representatives from Manchester Pride Charity to the game this Sunday. There will be a bucket collection at the Manchester OSC desk if you wish to make a donation to this fantastic charity.
Our community partners, Tesco Mobile Sale store will be our official Match Night Sponsors for this fixture.
Read more about the Elite League's first ever pride weekend here.
Special Pride Jerseys
on Sunday, the Manchester Storm players will be wearing this special Pride themed jersey in order to celebrate the Elite League's #YouCanPlay weekend.
These jerseys were designed by our graphic designer, Andrew Duxbury, and were commissioned by our jersey partners, Dunamis Sportswear.
We recommend everyone in attendance to join in this theme and turn up at the Storm Shelter wearing pride colours colours, as we promote the message that our game is a safe space for LGBTQ+ athletes and fans alike.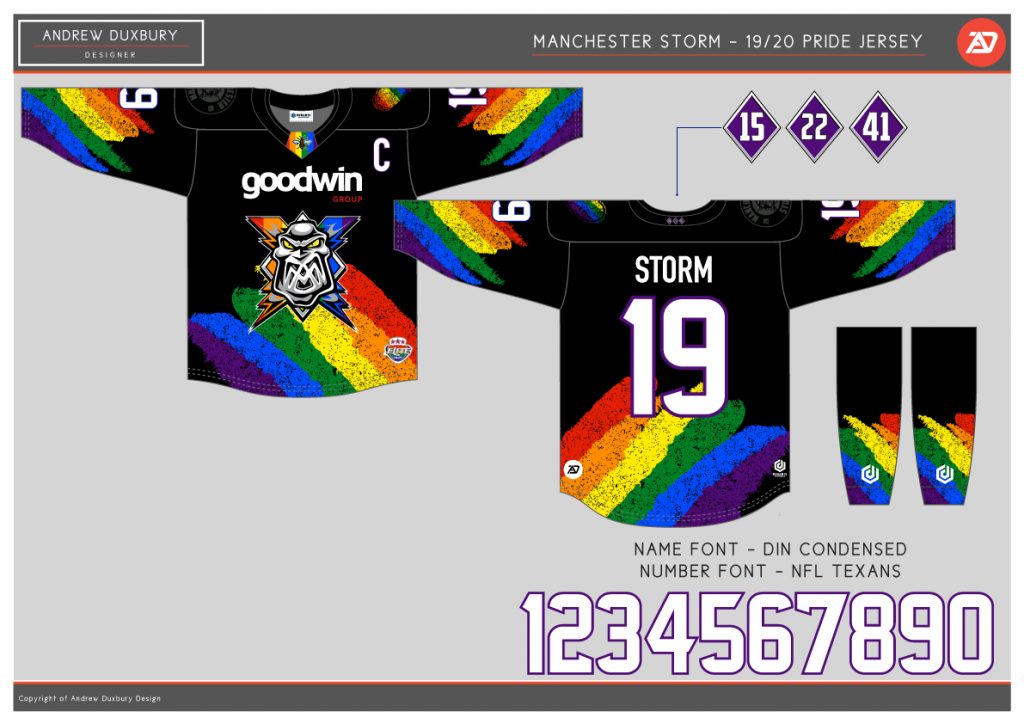 Team News
Despite disappointing news this week that forward, Kyle Hope was departing the club to pursue dreams in Denmark, the Storm were quick to announce new player Ivan Sijan the following day.
Forward Adam Hughesman and defenceman John Negrin are currently recovering from injury, and Negrin is day by day regarding when he will be icing.
New player Ivan Sijan joins the Storm to add depth to the blue line. Sijan may be familiar to some, as he iced for Milton Keynes Lightning last season, scoring four goals and assisting another 11. He will be icing this weekend, making his team debut.
Read more about our new signing here

MATCH NIGHT INFORMATION
Doors open Sunday 26th January at 16:30PM
Ticket information for games can be found here
Check out Storm Sports Store to get all your Manchester Storm merchendise and more
Visit Storm Sports website here
There will be no post game skate this Sunday
Match night raffle tickets can be purchased by match night volunteers around the rink and from the OSC – who are located under block 113
Visit  the OSC stall to purchase 50/50 and Shirt off the Back tickets, also enter the match night "Chuck A Puck" competition or sign up to the Supporters Club for the season
Meeting friends before the game? The club's official pub, the Station is the place to go for some pre-match drinks
If you can't make the game, Storm TV have you covered, buy the webcast here
If you're looking at group bookings for games this season, contact liam@storm-office.com for more information
Following this Sunday's home game, the Storm are next in action against Guildford Flames on Saturday 1st February.
We face visitors, Dundee Stars this Sunday in EIHL action in the Storm Shelter. Get tickets here, or by calling the Box Office on 0161 926 8782. Face-off is at 19:00.