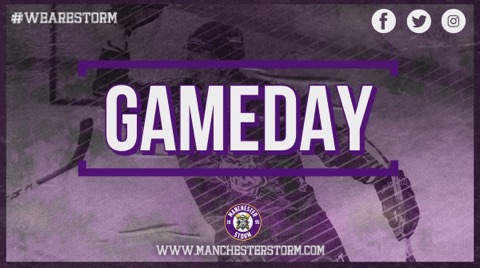 Latest News
Match Previews
WEEKEND PREVIEW: Storm face Flyers and Panthers
Tickets for Storm's upcoming league game against Nottingham Panthers can be ordered online HERE, or by calling the Box Office on 0161 926 8782. Face-off is on Sunday 24th November at 17:30.
Your Goodwin Group Manchester Storm travelled North yesterday to face Fife Flyers for the first time this season! The Storm took two points on the road in thrilling overtime win against the Flyers, the final result 4-3. 
We return to the Storm Shelter this Sunday against visitors Nottingham Panthers for Elite League action.
Manchester Storm v Fife Flyers – Saturday 23rd November – Fife Ice Arena –  F/O 19:15
The Flyers' management have acquired some talented new players to the Flyers 2019/20 roster. These include defencemen, Jonas Emmerdahl and Dylan Quaile. New forwards include Kyle Just and Tim Crowder, brother of Paul Crowder. Scott Jamieson also joins the Flyers on a two-way contract with SNL side, Kirkaldy Kestrals.
Manchester Storm v Nottingham Panthers – Sunday 24th November – Planet Ice Altrincham –  F/O 17:30
THE VISITORS
The Nottingham Panthers currently stand in 7th place in the league table.
They return this week to play EIHL games, following last weekend's Continental Cup games in Denmark – which saw the team qualify for January's final. 
STORM SPORTS STORE
Storm Sports have a range of fantastic new Bobble Hats in store. Grab one on time for winter and wear the colours in the Storm Shelter. There's a variety of styles to choose from. The hats are £20 and were created by our headwear partners, Rex Club.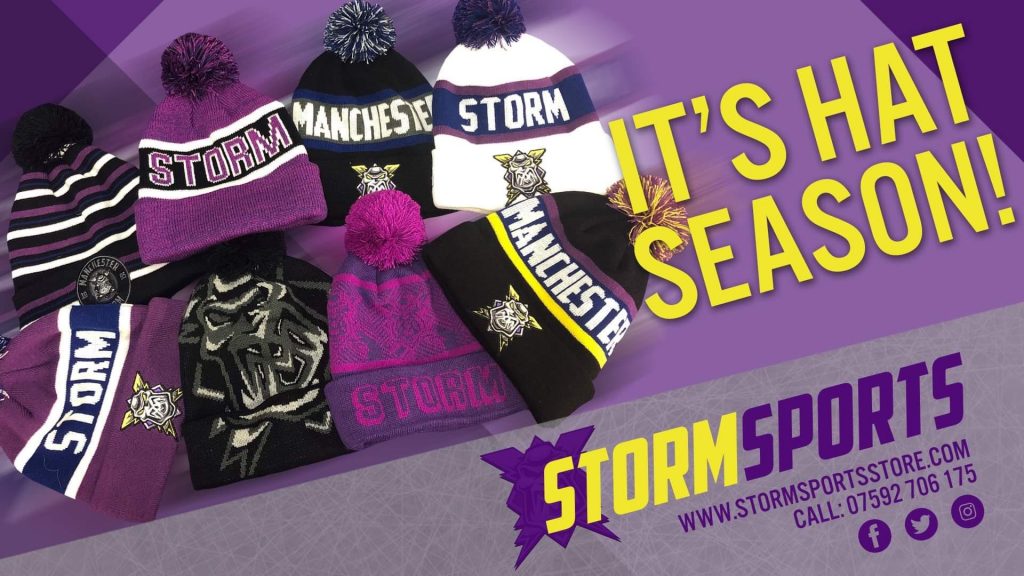 Also available are some comfy brand new Storm hoodies, made for us by Cross Check Clothing. There are only 40 in stock, so grab one of these amazing hoodies whilst stocks last.
OFFICIAL SUPPORTERS CLUB
The Manchester Storm OSC have various events coming up this season for fans to join in.
Not to be missed is the upcoming Winter Celebration. Join Coach, Ryan Finnerty and the team at our partners – Cresta Court Hotel on the 19th December 2019 from 7pm until late. Email events.stormosc@gmail.com to book. £32.50 Member / £35 Non-Member
*Payment option available of 2 instalments to be paid in November and December.
Check out the events calendar for more information here.
MATCH NIGHT INFORMATION
Doors open Sunday 24th November at 16:30PM
Ticket information for games can be found here
Check out Storm Sports Store to get all your Manchester Storm merch, hockey equipment and more
Visit Storm Sports website here
As this is a Sunday game, there will be no free skate after the match
This Sunday, enter our weekly Shirt off the Back draw, you can win Critchlow's game worn jersey
Up for grabs is one of Cody Thompson's sticks when you enter the stick raffle (left-handed)
Match night raffle tickets can be purchased by match night volunteers around the rink and from the OSC – who are located under block 113
Visit  the OSC stall to purchase 50/50 and Shirt off the Back tickets, also enter the match night "Chuck A Puck" competition or sign up to the Supporters Club for the season
Meeting friends before the game? The club's official pub, the Station is the place to go for some pre-match drinks
If you can't make Sunday's game, Storm TV have you covered, buy the webcast here
If you're looking at group bookings for games this season, contact liam@storm-office.com for more information
Following this Sunday's game against the Panthers, the Storm's next home game falls on Saturday 30th November against the Dundee Stars.
Don't miss out on the Storm's second leg of the Challenge Cup Quarter Final against visitors Sheffield Steelers! The game falls on 18th December 2019, for a face-off time of 19:30. Tickets are on sale here. Read more information here.
Tickets for Storm's upcoming league game against Nottingham Panthers can be ordered online HERE, or by calling the Box Office on 0161 926 8782. Face-off is on Sunday 24th November at 17:30.