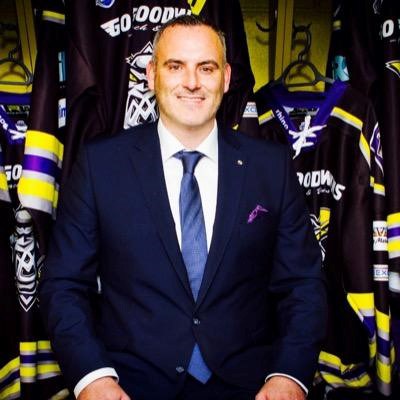 NEXT HOME GAME: The Go Goodwins Manchester Storm face the Dundee Stars at the Storm Shelter this Saturday (6.30pm face-off). Tickets can be purchased online by clicking here, calling the box office on 08700 852 929 or direct at the box office.
Well, well, well. What a night of drama and emotion it was last night at the Storm Shelter. The old rivals, Sheffield Steelers, came rolling into town with us having won 6 straight games on the bounce. There's something about these games vs Sheffield, especially in our rink that seems to generate high drama and intensity, both out on the ice, and up in the stands with both sets of fans! To see such a great crowd in the building, especially on a Wednesday night, was awesome to see too.
I think you'll all have heard Coach Pacha's post-game interview by now, it's fair to say he was beyond frustrated. The guys battled so hard against a powerhouse in this league, to get the game back to 3-3, and for what happened to happen, was so unfortunate & also incredibly frustrating.
If I'm being totally honest with you all, my only bug bear with our team for the initial couple of months of this season was the total team buy in. We addressed those issues, brought in a couple of great guys in Roehl & Swindlehurst, and to say this past while the team have been playing well and with that total buy in I speak of, is an understatement. The guys have simply been immense, and as I've said many times previously, all ownership, myself as GM, and you the fans ask of your team is for them to show they care, and work their socks off every single time they pull on the Storm jersey. It's not the player's jersey, it's your jersey, and every single time a player representing our club pulls it on, it HAS to mean something. I now firmly believe it does mean something to all the guys.
We now have 4 HOME league games left in this season, 4 HUGE home games. Can we make the play-offs? Damn right we can. Is it going to be tricky to do so? Possibly, but who doesn't love a challenge in life!!?? These final 4 home league games are MASSIVE for us, so I'm leaning on all of you as loyal fans of our club to keep the Storm Shelter buzzing for our remaining 4 league games, because if we can, you will push us on to the play-offs. You'll also get another home game if we do qualify, so win win all round!!
The atmosphere generated last night inside the building was incredible, almost play off intensity type stuff, we have to maintain that for the remainder of the season, and that starts this Saturday at home to the Dundee Stars (18.30pm). Bring your friends, work colleagues, family members and introduce them to our great club & amazing sport. They'll be like you in no time, and become addicted to the team and the game itself. You're all ambassadors for Storm, so get out there and keep spreading the word for us, and help the team as we start again on Saturday evening with our #PlayOffPush!!
See you all then,
Neil