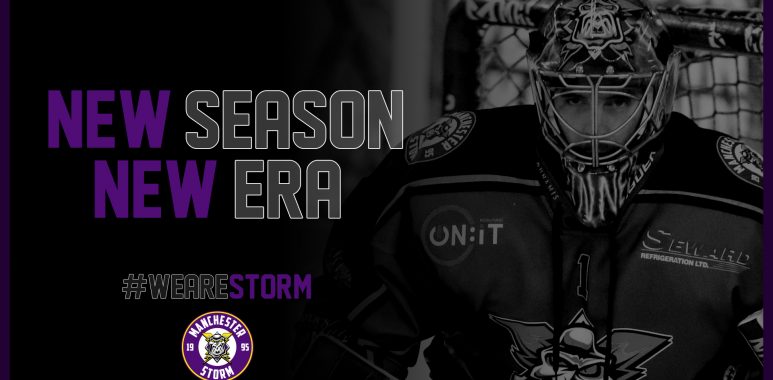 Latest News
Supporters Club
A Message from your Manchester Storm Official Supporters Club
Firstly, massive congratulations to Steven Helps (of S Helps Consulting Ltd) on winning the prestigious "Seat on the Bench" raffle prize as, announced at the recent Meet the Players event. Steve (who is the proud sponsor of Dallas Ehrhardt's Away Match Jersey) was the lucky winner whose name was randomly selected by our online random generation tool. He will now select a game over the coming weeks to join Ryan and the team on the bench. 
On behalf of everyone at the Storm we would like to say a massive "Thank You" to the many sponsors who have already signed up for the 2019/20 Own and Loan scheme. As previously mentioned, ALL proceeds from the Own and Loan scheme goes directly back into the team helping make their relocation as smooth as possible. 
However, we still have plenty of jersey's seeking sponsorship. Maybe like Steven you wish to sponsor a shirt in a company name, or like many other sponsors simply wish to have your names shown on the reverse of the jersey. Jersey sponsorship is not only open to fans who live in or around the Manchester area, but can be secured from anywhere across the UK, Europe or the world. Just like our special friend Jay (in Chicago) who never fails to support club initiatives.  To view which jerseys are still for sponsorship please click here: Own and Loan Sponsorship 
This week we saw the launch of our annual Kit Club, Locker Room Nameplates and Stick sponsorships. As per previous seasons you will receive a certificate of sponsorship, plus a signed player photograph of your choice. This year based on your feedback, we have consolidated the number of Kit Club items and are running two competitions where you can win two great prizes in recognition of your sponsorship. In addition, we are also offering you the chance to sponsor something of your own choice, for example: #1 Matt Ginn's Leg Pads or #10 Dallas Ehrhardt Bow Tie. This is a great opportunity for you to use your imagination and sponsor those novelty items. To view Sponsorship opportunities please click here: Player Stick Sponsorship  Name Plate Sponsorship  Kit Club Sponsorship
As we enter the month of September, we continue to sign up fans to the Official Club Membership scheme. At the time of writing we have just over 150 fans signed up and are quickly approaching last year's numbers. A wide range of benefits are available to members as shown on the Membership web page. So far Mark and Ben Cowell enjoyed the ceremonial Puck Drop experience whilst Sue and Christine Latimer enjoyed the Man of The Match experience in a recent preseason match courtesy of being MSOSC members.  Maybe next time this could be you! Please click here to read more about our Membership Scheme
Another massive "Thank You" goes out to all the fans who attended the August "Meet the Players" event at the Cresta Court, Altrincham. Attendance surpassed all previous years with over 250 fans joining the new players and our special guest compère for the evening, Mr Jon Hammond. Our next event is the ever popular 10 Pin Bowling evening  – this year to be held at Atlantic Bowling in Broadheath on Tuesday 24th September. Book now to avoid disappointment via the events email events.stormosc@gmail.com. Over the coming season there will be a variety of events scheduled so please keep visiting the MSOSC desk located under block 113 and watch out across social media for all the latest news and events.
Match Night Packages continue to be a fans favourite with 5 packages available including Ceremonial Puck Drop Package; Birthday Experience; On Ice Mascot Package; Behind the Scenes Tour; Bench Warmer Package. These packages are the only way to get involved in match nights and have provided many memories for those who have participated in one or several of these last season. On the Behind the Scenes Tour you will get chance to meet and chat with our new Club's Equipment Manager Scott Glenwright and see up close how the team prepare to go into battle on the ice. For more information please click here: Match Night Packages 
Finally, we would like to welcome Orion Travel as our official MSOSC Away Travel Partners for the coming season. Based near Manchester city centre, Orion Travel provides coach and mini bus services. Our focus this season will be to run as many trips as possible to allow the fans of the Storm the opportunity to support the team on the road. As per previous seasons pricing for away travel will be extremely competitive to try to attract as many of you as possible to attend. Where possible we will also work with the opposition teams to get the best match ticket prices for you. Please look out across social media for the latest news and offers for Away match travels.