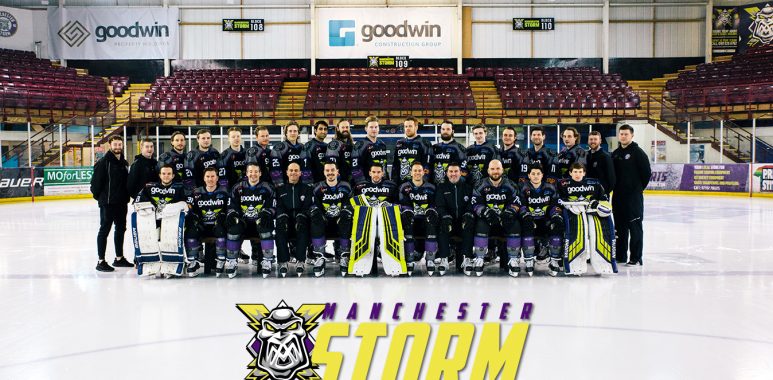 Merry Christmas & Happy New Year From All At Manchester Storm!
Your Goodwin Group Manchester Storm would like to take this opportunity to wish all of our fans, sponsors, volunteers, players & former players a very Merry Christmas and a Happy New Year. This is a very difficult time for all and many of us around the world are having to do Christmas a little differently this year due to covid-19 restrictions. We hope you all make it a special time in your own way and we hope to see you all back at the Storm Shelter together once we've 'weathered the storm.'

Manchester Storm Managing Director, Jamie Tunstall had this message: "I'd like to wish everyone a very happy and healthy Christmas and New Year, stay safe, and I hope to see you all again soon!"

The club would like to thank all fans who have been able to get involved in the various raffles and fundraising ever since we got the news of the cancellation of the 19/20 Elite League season and the delay to the 20/21 Elite League season.

Our online raffles have been crucial to the club and as always, we have been well supported by our fan base during this difficult time. Not only have we been well supported in our online raffles and fundraising, but also by our sponsors, including Robert Walker Haulage and Dizzyfish, who didn't hesitate to back the club financially, along with partners Debt Assist UK and Gameplan Financial. Not to mention the dedication from Dunamis Sports and designer, Andrew Duxbury.

Over the Christmas and New Year period, you can still support the club by entering our online '50/50′ raffle and also the raffle to win a game-worn and signed Frank Pietrangelo #40 jersey from the 99/00 season, a real piece of history! Both of our online raffles end on January 1st 2021 at 17:00.
Get your jersey raffle tickets HERE!

Get your '50/50′ raffle tickets HERE!
You can also take part in our first ever Manchester Storm Virtual 10K race, but be quick, there are only 21 places remaining!

Sign up for the race HERE!
Have a very Merry Christmas and a Happy New Year and we'll see you in 2021!
#WeAreStorm | #ATTWWY