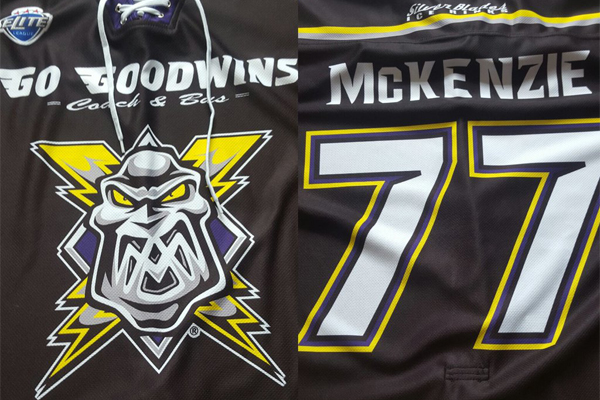 McKenzie's Special Auction
SEASON TICKETS: The Go Goodwins Coaches sponsored Manchester Storm are pleased to announce that season tickets for the 2016/17 Elite Ice Hockey League season are now available to purchase. Season Tickets can be ordered online by clicking here, by calling the box office on 0161 926 8782, or in person at the box office.
Widnes Wild head coach and on loan Storm player Scott Mckenzie has a special request for all the Storm fans out there!
Hi Storm fans,

I am appealing for your generosity and help. A few weeks ago, I received a call from Rob Eley, captain of the Solihull Barons. Rob asked me if I would play in his testimonial game in Solihull on the 24th of April alongside players such as Hilton Ruggles, Rick Strachan and Les Millie, all guys that I have grown up watching as a kid. I obviously gratefully accepted.

In his testimonial year, Rob has held numerous events to raise money for Ward 19 (Cancer Ward) at Heartlands Hospital and The Willow Foundation. Throughout the year Rob has done a fantastic job of fundraising and everyone is looking to round off the 2015/16 season with a fantastic game of hockey.

Although playing in the game is classed as 'doing my bit', I knew there was something that I could do to raise a bit of money to take with me and donate to the charity. This season, I have played most of my hockey for Widnes Wild but also played a game for Solihull Barons and a few games for Manchester Storm. As many fans will know I also helped Pash a little on the bench shortly before Mike Morin came in. As a thank you for my help, the excellent and classy Storm management delivered a #77 Mckenzie jersey to me. My plan is to auction this jersey off in a 'Silent Auction' bidding style format.

The way to bid is to directly email me your bid to scott.mckenzie@widneswild.co.uk. The bidding will close on the 14th of April at 4pm with the winner being announced shortly after. I will personally deliver the jersey to Altrincham Ice rink on Friday the 15th to the lucky winner.

Thank you for your support!
Scott Mckenzie #77