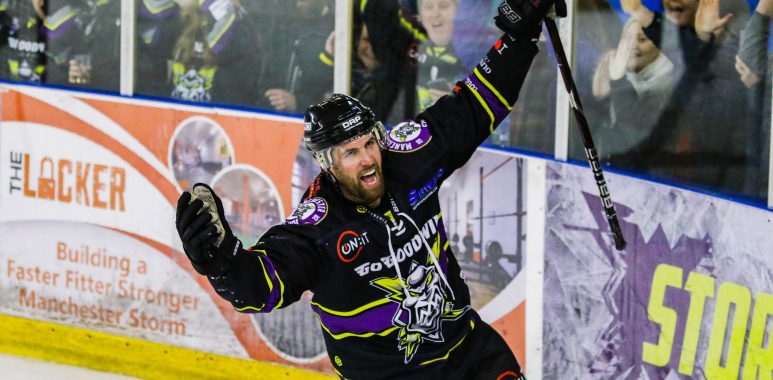 MATCH REPORT: Storm Beat Panthers in Overtime Thriller!
Tickets for Storm's upcoming game against Fife Flyers can be ordered online HERE, by calling the Box Office on 0161 926 8782, or in person at the box office. Face-off is 17:30 Sunday 13th January.
After a trip to Cardiff on Saturday, Storm faced visitors, The Nottingham Panthers in the Storm Shelter last night. Both teams were without a player on the roster last night due to injury, Bakker for Storm and Farmer for Panthers.
It was a first period of back and forth hockey, both teams taking chances and pushing forward only to be denied by the oppositions defence. The first penalty was drawn at 4:33, handed to Panthers' Betteridge for hooking. Storm were unable to get a powerplay goal, but another chance appeared a few minutes later – Lepine being handed two minutes for interference at 7:02.
Ten minutes into play, neither team had a goal. It was newly signed ex-NHLer, Chris Stewart for Panthers who took an opportunity on the breakaway, saved by Ginn. Balmer was the first in the penalty box for Storm, after receiving a penalty for slashing at 10:59. Panthers were handed a bench penalty minutes later for having too many men on the ice at 13:00. The first period was relatively tense at times, players fighting for a loose puck by Garnett's net, the scoreline still 0-0.  
At 15:57 Panthers were given another two minute penalty, Rheault being sent to the box for slashing. Again, this gave Storm another powerplay opportunity. However, any chances of a first goal for Storm were dashed when Poulin was sent to the box for holding at 17:14. No team were able to score during the short 4 on 4 chance, nor Panthers during their powerplay. It was fairly even period when it came to shots on goal, Garnett for Panthers receiving nine and Ginn saving twelve.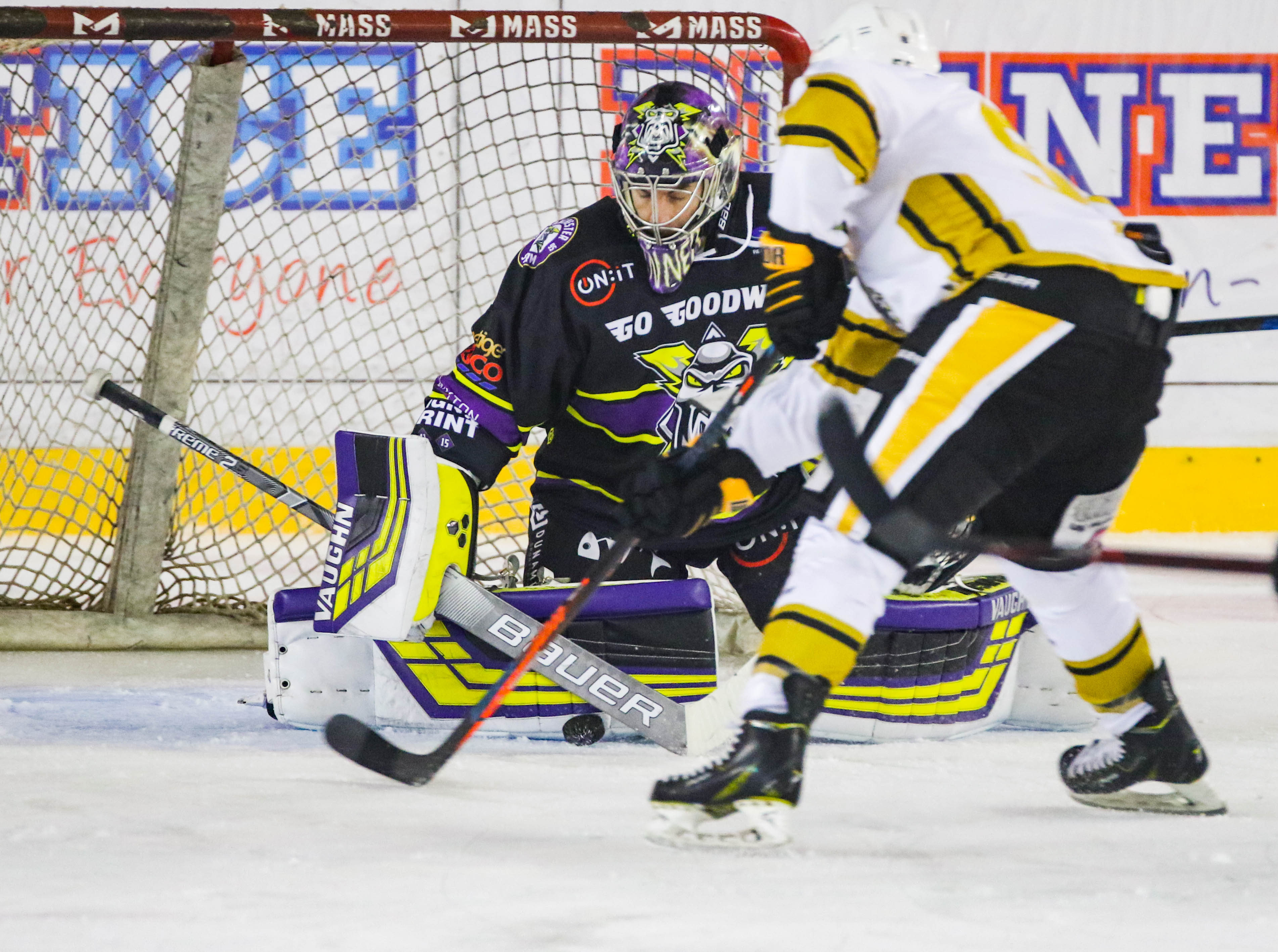 The second period was more of a mixed bag than the first twenty minutes of play. Storm took the first penalty of the second, handed to Stadel for hooking at 22:59. They held their own defensively as Panthers pushed and pushed on their powerplay, trying to up the scoreline.
It was almost halfway through the game before the first goal appeared. Storm were the first to grab the opportunity, Long sending the puck home on a rebound, assisted by Richardson and Poulin at 29:26. Stadel received his second penalty of the evening, this time for interference at 29:43. At 34:05, Panthers found their chance to equalise the scoreline, Perlini putting the puck away on the rebound, assisted by Stewart and Henderson. Just over a minute later, Poulin found a second goal for Storm, shooting the puck in the right hand corner – Byers and Moffatt with assists at 35:22. Panthers drew a penalty against Ruopp for elbows at 36:06, but they were unable to equalise. The second period ended 2-1 in Storm's favour. Overall, a fast-paced, exciting twenty minutes of play.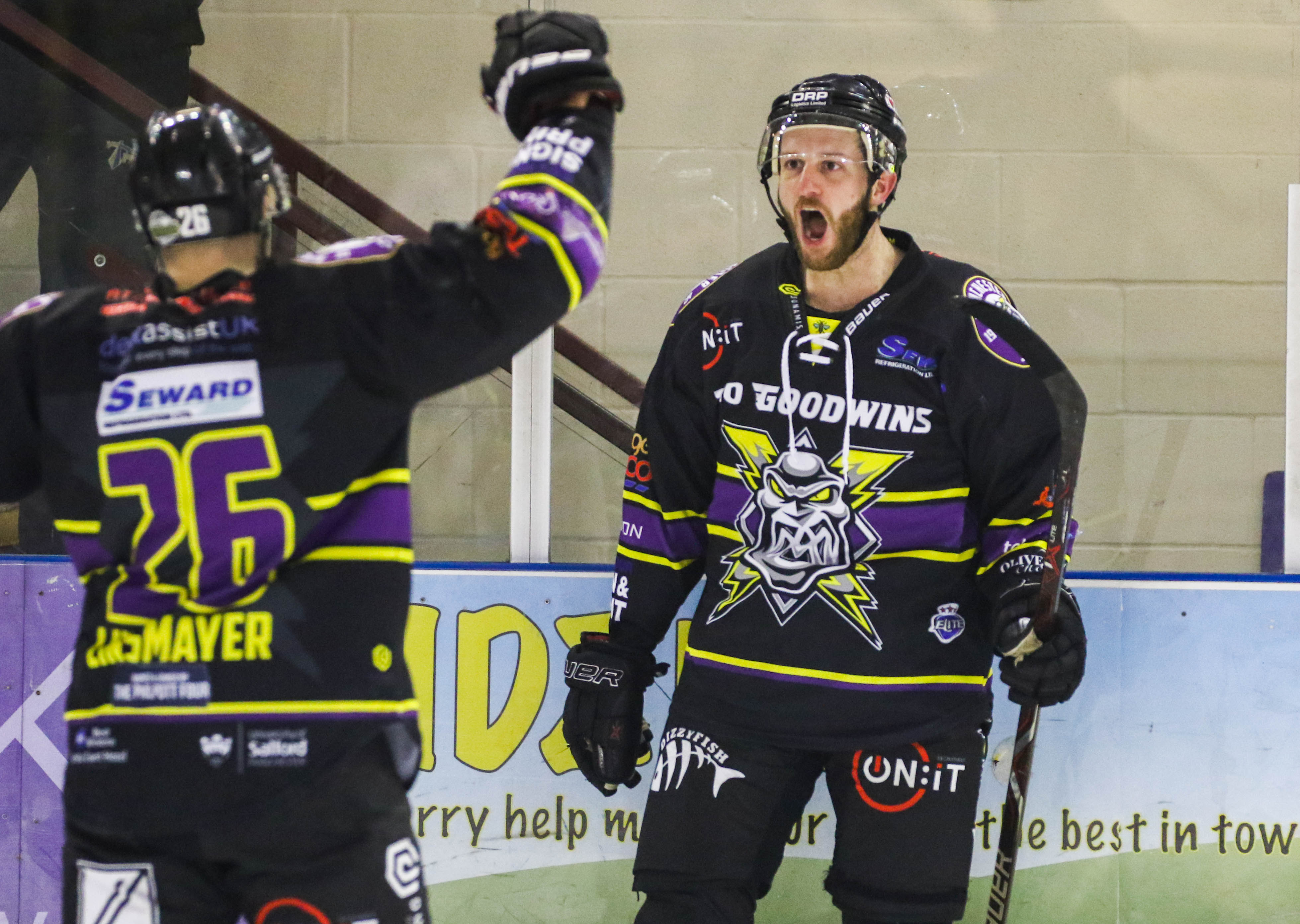 The Panthers managed to equalise seven minutes into play, scored by Kovaks via deflection and assisted by Hughes and Guptil at 47:25.
Richardson was handed a penalty for tripping at 49:14, giving the Panthers the powerplay opportunity. It was 49:55 that Panthers managed to score their third goal, putting them above Storm for the first time throughout the game. Perlini secured his second goal of the evening over the glove of Ginn, assisted by Hurtubise and Rissling. Momentum picked up even more, as Storm attempted to equalise. They found their moment, as Springer put the puck past Garnett on the rebound, assisted by Moffatt and Hammond at 54:59. With Springer sealing the tie at 3-3, the game went into overtime.
The starting lineup for overtime was Stadel, Long and Hammond. After a line change, not long into play a breakaway appeared, to be shot down by Panthers', Hughes. This resulted in Storm being handed a penalty shot, something you don't see in overtime in the EIHL very often.It was the penalty shot from the Captain, Dane Byers that won the game, shooting the puck back-post. It was a brilliant way to end a home game, Storm securing the two points in overtime at 61:18 and the final result 4-3.
Man of the Match for Panthers went to #Brett Perlini.
Man of the Match for Storm went to #34 Dane Byers.
Shots on Goal:  Michael Garnett – 30.
Shots on Goal: Matt Ginn – 40.
Referees: Tom Pering and Steve Brown.
You can next see the Storm in action at home on Sunday 13th January against Fife Flyers – 17:30 face-off!
Are you a lover of Bingo or want to try something different? The OSC have just announced their next event, Storm Bingo – January 22nd, 7:00PM. Email events.stormosc@gmail.com for more information and stay tuned for further events!