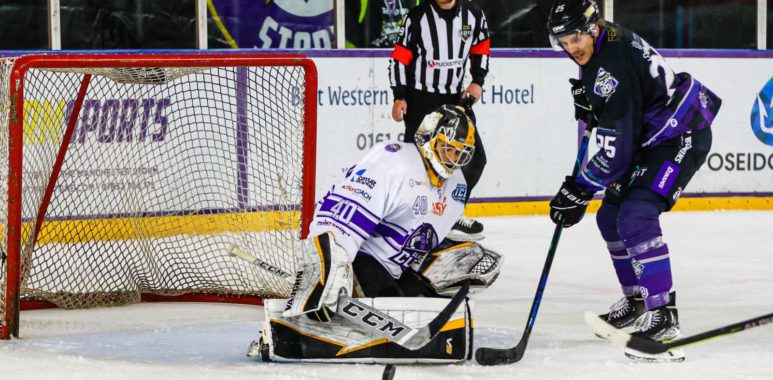 MATCH REPORT | STORM LOSE OUT TO CLAN DESPITE HEAVILY OUTSHOOTING SCOTTISH OUTFIT
A clever road performance by Glasgow Clan saw them best the Storm 5-1, in a frosty encounter that reflected the city's current weather conditions.
A hugely entertaining opening period saw the crowd treated to a lengthy fight between Springer and Stevenson, after the former laid a heavy hit on another Clan skater. A few moments later, the first goal of the game was scored, shorthanded, by Colin Campbell in the 7th minute from an odd-angle to send the Scottish outfit ahead in the game. However, six minutes later things would be level through Scott Simmonds. A shorthanded breakaway by the Storm saw Hamilton's initial effort repelled by Starrett in the Clan goal, before the follow-up by Simmonds pushed the puck over the line. A wonderful individual drive by Simmonds almost gave the hosts the lead, late in the first period, until his attempt rung the iron.
The Storm would lose their captain less than three minutes into the middle period, as the defenceman was assessed a game misconduct for a check to the head. An excellent penalty killing effort and some solid netminding by Bacashihua kept the scoreline tied before a plethora of minor penalties interrupted the rhythm of the game. A lucky bounce of the puck hopped over Springer's stick and onto a gleeful Roy who snapped the puck into the net in the 38th minute. Less than a minute later, the Clan had their third of the game, as O'Brien capitalised upon Storm's inability to clear the puck away from their net.
A 3-1 scoreline, in favour of Glasgow, with twenty minutes of play remaining left the Storm were left with plenty to do, despite their efforts. A scramble infront of the Storm net saw Campbell react fastest to the loose puck, in the 51st minute, and expertly fire beyond a screened Bacashihua. An empty net goal by Southam, in the 57th minute, ended any hope of a late revival by the hosts and handed the Clan a deserved 5-1 victory.