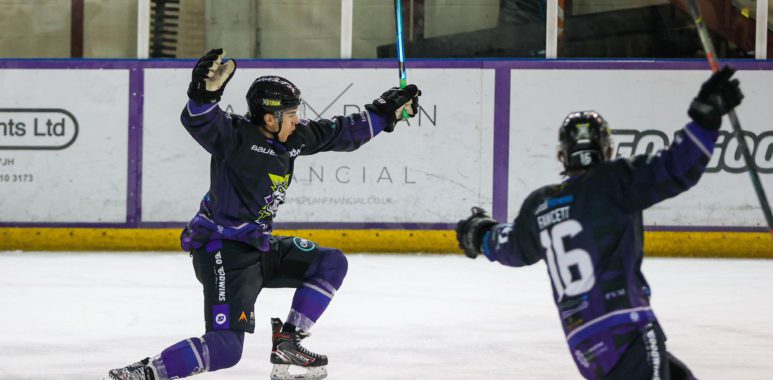 MATCH REPORT | STORM DEFEAT FLAMES IN HUGELY ENTERTAINING ENCOUNTER
A hugely entertaining encounter between the Storm and Flames saw the hosts hold onto the two points with a 4-3 victory.
Manchester would get off to the perfect start when an early powerplay opportunity was converted through a VanWormer deflection, in the fourth minute of play. Unfortunately, a sloppy turnover by the hosts, in their own end, saw the lead evaporate as the young British combination of Howlett and Griffiths worked to good effect just after the midway point in the period. However, a beautiful snip from Critchlow flew beyond a hapless Lindskoug, in the 18th minute, to give the hosts a deserved advantage heading into the first intermission.
The one-goal cushion for the Storm would again be chalked off by the Flames, as Cable was able to freewheel around the zone before precisely picking out Ferguson whose instant shot found the top corner. Yet, another powerplay opportunity would be capitalised on by the Storm, as Thompson was the quickest to react to a bobbling puck, in-front of the Flames net, to restore the one-goal lead in the 36th minute.
The Storm would then make an ideal start to the final period, as the in-form Brady somehow managed to find a gap between netminder and post to extend their lead to two-goals, for the first time in the match. The hosts penalty killing unit then withstood three consecutive minor penalty opportunities, including two brief 5on3 chances for the Flames, to maintain the 4-2 scoreline. Although, with just over two minutes remaining in the game, McNulty's sharp-angled shot snuck between the wickets of Bacashihua, to slash the deficit in half, which set-up an extremely tense end to proceedings. Despite the visitors pulling the netminder, in favour of the extra attacker, they couldn't find another way beyond Bacashihua before the final buzzer sounded.