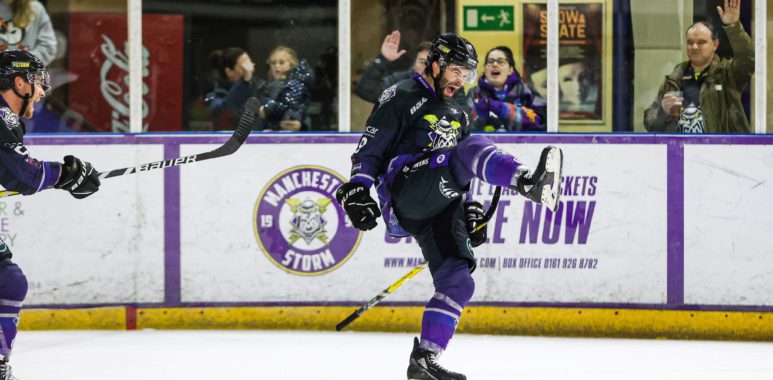 MATCH REPORT | STORM 3-0 GIANTS
The Storm saved their best performance of the season to date for one of the leagues very best outfits and in the process made it three consecutive league home victories, as they beat the Belfast Giants 3-0.
A physical and entertaining opening period was evenly contested by the Storm and Giants, as the hosts went toe-to-toe with one of the league favourites. A heavy and high-hit by Kevin Raine would send Storm on the powerplay for a second time in the period. The puck was cycled continuously by Manchester, for the two-minute advantage, and despite not scoring on this opportunity, the persistence would soon pay dividends. An odd-angled shot thrown on net by Brady somewhat surprisingly crept beyond the imposing Beskorowany in the 18th minute to open the scoring.
The one-goal advantage was a fair reflection of the first period, as the Storm outshot their opponents 17-10. The second period saw Belfast attempt to assert their presence on the game, as they finished every check and pinned the puck deep into the Storm end for large parts of the frame. However, a stout Storm blueline withstood the pressure, ably supported by some strong goaltending from Ginn and brave blocking from the forwards.
An outstanding stop by Ginn in the 31st minute stonewalled Slater Doggett was undoubtedly the highlight moment of the period, as the Canadian netminder ensured Manchester would keep hold of their slender one-goal advantage. A cagey start to the final period of play was disrupted when Simmonds and Critchlow combined on the counterattack in the 49th minute. An excellent individual play by Simmonds 29-seconds later saw the American intercept the puck atop of his blueline and loft a finish over the shoulders of Beskorowany.
The three goal lead saw Adam Keefe pull his netminder with 2:37 remaining in the game to utilise the extra attacker, in a desperate attempt to find a way of beating Ginn between the Storm pipes. However, the visitors were unable to score on the Storm and left the Shelter with zero points and zero goals.
#WeAreStorm | #Manchester