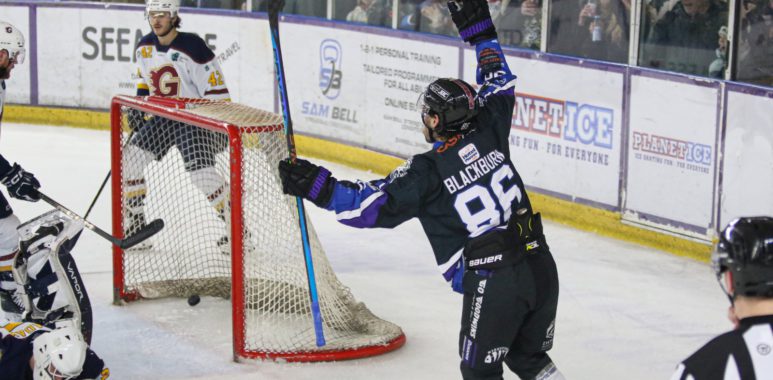 MANCHESTER SUFFER HEAVY DEFEAT TO TITLE CHALLENGERS
The Guildford Flames were the visitors on Saturday night. The Surrey based side currently sit second in the Elite League standings. A throwback to the 90s at the Shelter saw the Storm donning a retro styled jersey.
It was the Flames who had the better of the early exchanges, testing Brodeur's reactions on a breakaway. It took until the midway point of the period for the deadlock to be broken when Lachowicz latched on to a pass from the corner from Cable. Tedesco doubled the lead moments later as the forward went one v one against Brodeur after a nice pass down centre ice. A back door tap in by Tait put the Flames up by three and a time out was called which seemed to settle the ship. The Storm pulled one back in the final minute, on the powerplay, when Blackburn fired the puck in to the roof of the net at the back door – Carter with the decisive pass.
A free flowing opening to the second period was interupted when Crinella extended his teams lead after a smart move that beat Brodeur in the Storm net. Tedesco added another less than a minute later to give the Flames a four goal advantage. A sixth followed, this time scored by Fredericks. Downie was introduced to the game at this point replacing Brodeur between the pipes. The British netminder pulled off two huge saves straight off the bat as the Flames looked to test him early. Carter capitalised on only the second powerplay of the game to reduce the deficit, combining nicely with Simmonds and Johnson late in the period.
Despite the Storm coming out hard in the third it was the Flames who lit the lamp when McNulty went forehand backhand on Brodeur. An eighth followed, scored by Tait beating Downie down low. With Simmonds sitting a two minute cross checking minor the Flames took advantage of the extra space and converted through Marklund. A tough night at the office for the Storm eventually ended 9-2 to the visitors.