Manchester Storm OSC Members 2016/17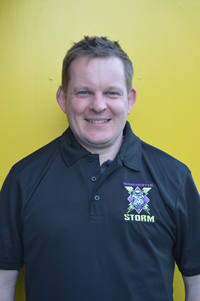 Name: Paul Tracey
Title: Events
Paul has followed ice hockey since 1990, where he supported the Trafford Metros who played out of the original Altrincham Ice Rink, and still holds many of those times as his favourite hockey memories. The Trafford Metros later became the Manchester Storm playing out of the new 'NHL' style arena in Manchester, where fans were able to watch in luxury with comfy seats and a huge scoreboard etc! Aside from following the Storm at the Arena, he continued to follow the team playing out of the Altrincham Ice Rink who renamed themselves the Altrincham Aces, the name of the original Altrincham team dating back to 1961.
In the Storms returning season, Paul attended all the home games and a number of the away games. It has been fantastic for his wife Nichola and young family to be involved with him, Lucas especially who many got to know through the course of the season, and who you may have seen singing Storm songs on social media. Paul is also an active member of The Forecast – Manchester Storms Podcast, and has attempted to play recreational hockey on and off for many years.
Paul lives in Wincham, Cheshire and is a Project Manager & Appraisal Analyst for a Valuation Business. He specialises in asset valuation, asset advisory and asset disposal working with banks, restructuring and turnaround professionals.